— Kristen from New York —

We got married in Mexico at a beautiful resort. The bright blues and traditional Mexican designs really stood out to us so we wanted to emphasize that throughout our stationary. The pops of lime green were incorporated to bring out the limes which were used as decor and garnishes.

Stamp and Embossing powder

Home printer (HP)
Return address stamp from Etsy
Personalized postage stamps from Zazzle
Adobe Illustrator (to create designs)
Paper Cutter (to cut the enclosures)
Rubber stamp and embossing gun/powder (for design on front)
Permanent adhesive tape gun to assemble the invitation to the mat

1. Designing the Invitation and Inserts

My sister who studied graphic design in college, really set me up with a few programs on my computer. We created a few ideas and fine tuned them quite a few times. We worked on Adobe Illustrator to create the invitation design and the design for the enclosures (we had several since it was a destination wedding).
2. Printing and Cutting:

The matting was already assembled onto the panel pocket, so after we agreed upon the invitation wording and fonts, we printed all of the invites out using our HP inkjet printer.
After the enclosure designs were vetted (agenda, travel info, about, RSVP and our at home reception information) I purchased a basic paper cutter and cut each insert about a 1/2″ shorter than the last so they would fit perfectly into the pocket.
3. Embossing the invitations:
I found a rubber stamp that matched our Mexican theme very well and bought an embossing gun and powder. I stamped the invitations and decided on using a neutral white, so you could see the design but it would not take away from the wording of the invitation. After heating it with the gun for about 10 seconds, I let them dry for a few hours, just to be safe.
4. Assembly:
Using zip dry glue, I then glued the invitation to the matting and panel pocket.
5. Envelopes:
For the envelopes, we used the permanent adhesive roller to take the back of the liners and inserted them into the envelope. Using an envelope opener (ironically) we made a crease in the fold and taped the top part of the liner and pressed it together. Then, we stamped the back flap with our custom return address stamp (in white ink).
We found a calligrapher on Etsy who we sent all of our envelopes to for the addressing in white ink. They turned out perfect!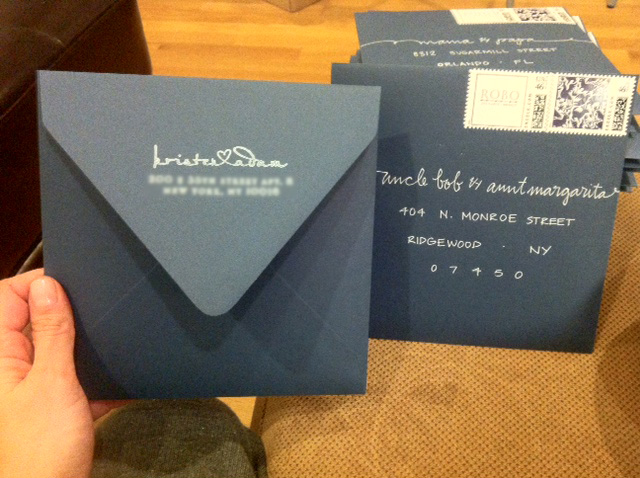 6. Ready to Mail:
Once all of the enclosures were added to the pocket and we stuffed all of the invitations, I placed 2 custom stamps on the envelope, it gave the invitation more of an 'international/destination' feel!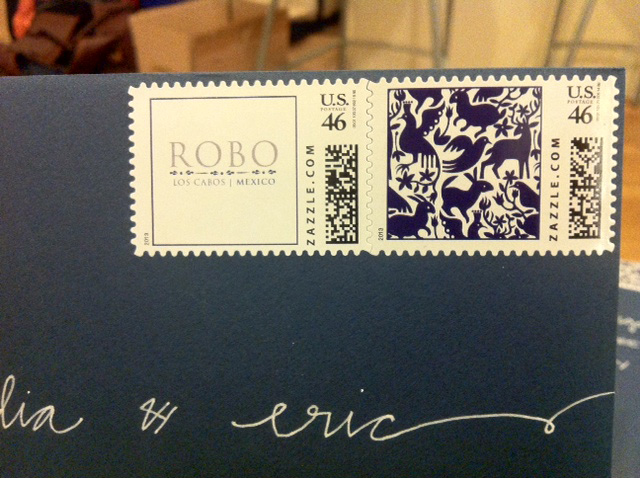 Be Patient!!
Really take the time to put the effort into each and every step. You will be so happy with yourself and your invitations. It is very rewarding to see the final product, and know that you nailed the exact look/feeling you were looking to achieve!
Avoid RSVP confusion
I marked a little number (in a white gel ink) on the bottom corner of each RSVP card, just in case someone forgot to write their name (this tip was courtesy of Pinterest!)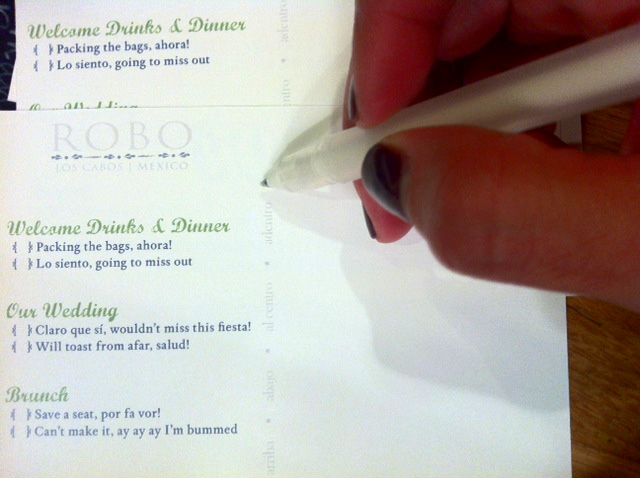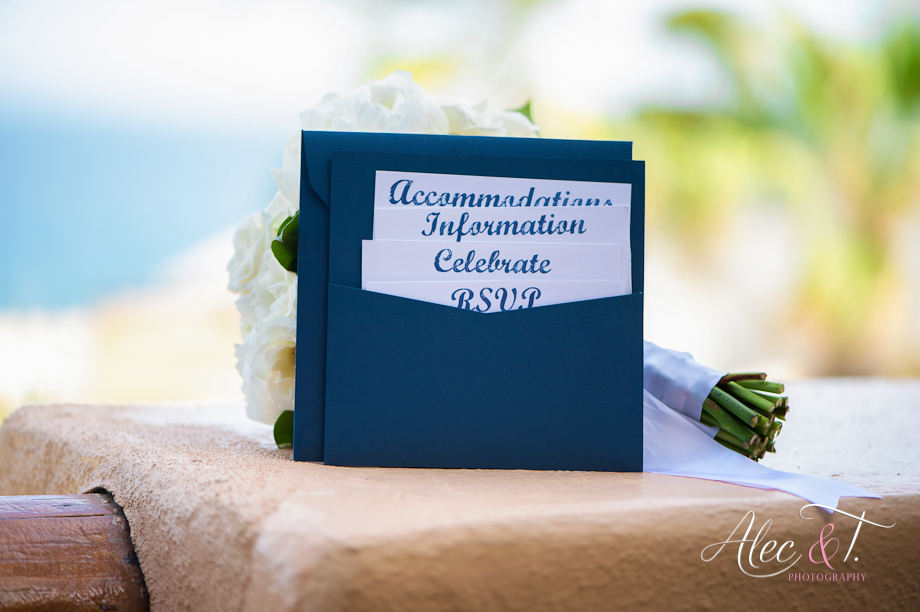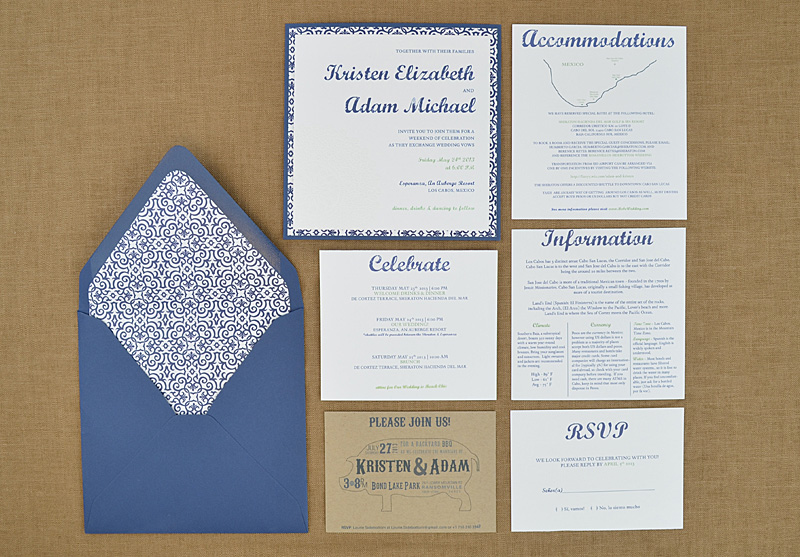 ---

At Cards & Pockets we love DIYers.  We also know that one of the best ways to be inspired is to see and learn about other people's experiences.  We are excited to share stories of our customers unique DIY invitation process.
Do you have a unique DIY story for your invitations?  We would love to hear more about it. Simply visit our "My DIY Story" entry page and fill out the submission form and you could be selected for our next featured story!
Be an inspiration, share your story today!