Nautical Knot Navy and Yellow Pocket Invitation
Posted on May 27, 2016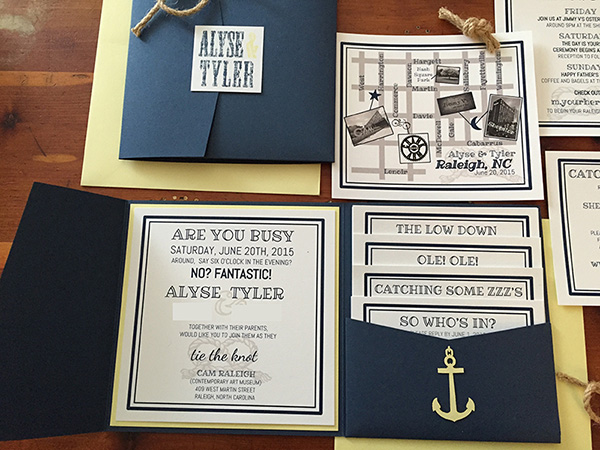 — Alyse from Virginia—

My husband and I are both in the Navy and we just returned from 9 month deployments. Although we were separated by many miles at sea, we were each other's 'Anchor' through the ups and downs. I love navy blue, it's classy and elegant and with the wedding being in June I couldn't get yellow out of my head. It's summery, nautical and modern, perfect for us!
I spent a lot of time googling invitations and I picked a little bit from this one and a little bit from that one to create a truly unique design.


Google was my BF! I downloaded the templates provided and completely changed them to my liking.

I had Cards and Pockets mount the mat behind the invitation but my husband and I glued the anchor and invitation on with glue dots as well as the front card with our names on it.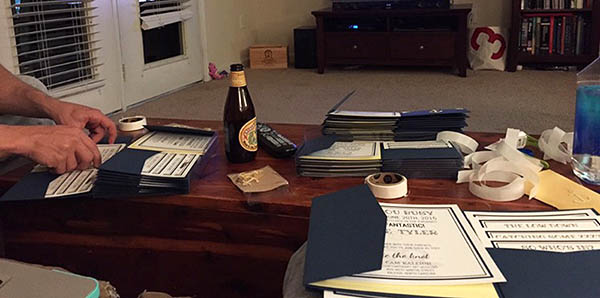 Make sure you allow enough time for ordering samples, processing and shipping. Definitely order samples, it helps confirm your decisions. Printing via C&P Print shop turned out amazing! I would highly recommend them and it took a little bit of stress out of the whole process.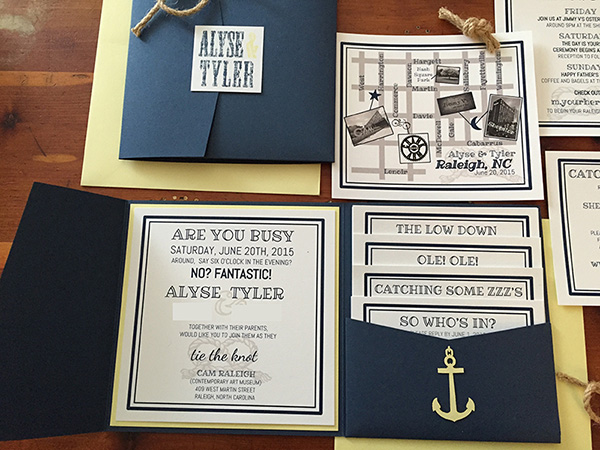 ---

 At Cards & Pockets we love DIYers.  We also know that one of the best ways to be inspired is to see and learn about other people's experiences.  We are excited to share stories of our customers unique DIY invitation process.
Do you have a unique DIY story for your invitations?  We would love to hear more about it. Simply visit our "My DIY Story" entry page and fill out the submission form and you could be selected for our next featured story!
Be an inspiration, share your story today!