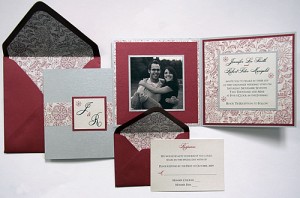 We think this festive suite is perfect for any season! The Silver & Mars color scheme is enhanced by the use of a Black & White Photo and the Garden paper from our Design Your Own Paper line. This set can be customized using any color scheme, so let your imagination run wild!
Want This Invitation?
Our print shop would love to set this up for you, customized with your event details. Send them an email at printshop@cardsandpockets.com to get started.
Design Recipe:
Left Invitation Mat: Mars

Left Mini Mat: Silver

Right Invitation Mat Backing: Mars, Custom Cut

Right Mini Mat: Silver

Monogram Backing: Mars