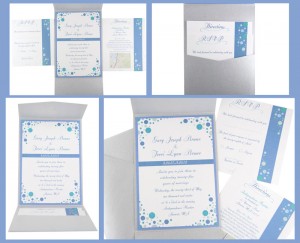 Cards & Pockets was very excited to have Stephanie Intern with us this January. One of the goals during her time here was to develop her own invitation design, print and assemble the suite, and take photos for a blog post. We hope you enjoy this invitation suite as much as we have been!
Here are some words from Stephanie about her design:
"This invitation was created for my parents twenty-fifth wedding anniversary, also known as the silver anniversary. The colors within the invitation consist of a variety of blue shades that create a wave-like pattern of bubbles around the edges. The colors that I used were Azure Blue, Vista, Aquamarine, Turquoise, and Lagoon. The site for the party, Independence Harbor, in Assonet, MA inspired the color palette and theme for the invite. The font that I used was Annabelle and the bubble pattern was custom made by using various sized circles to form the pattern. It all came together with the Silver Pocket Invitation and envelope symbolizing the silver wedding anniversary."
Want This Invitation?
Our print shop would love to set this up for you, customized with your event details. Send them an email at printshop@cardsandpockets.com to get started.