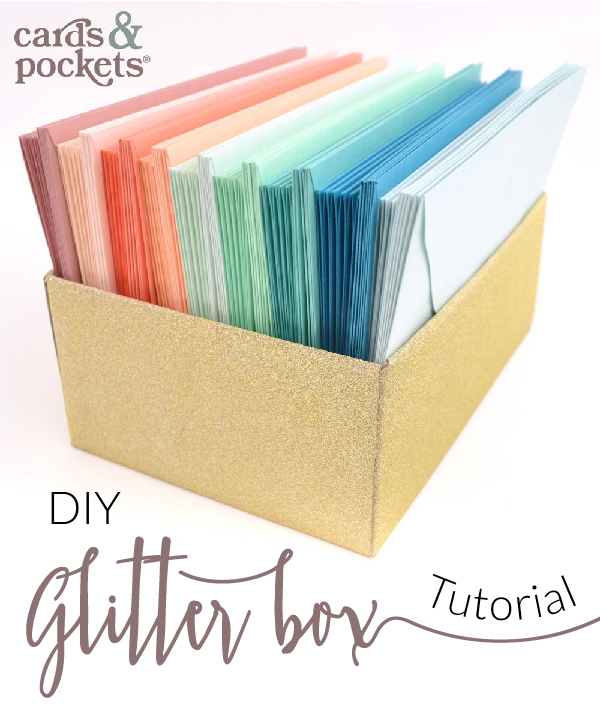 Today we needed the perfect box for our card & envelope giveaway on Instagram and after shopping a few of our favorite stores we decided to just make one. We loved the result and thought it would be fun to share with anyone trying to make their own box or storage container at home. We used museum board for our DIY card box and our fun Gold Glitter Paper to wrap it up.
Materials: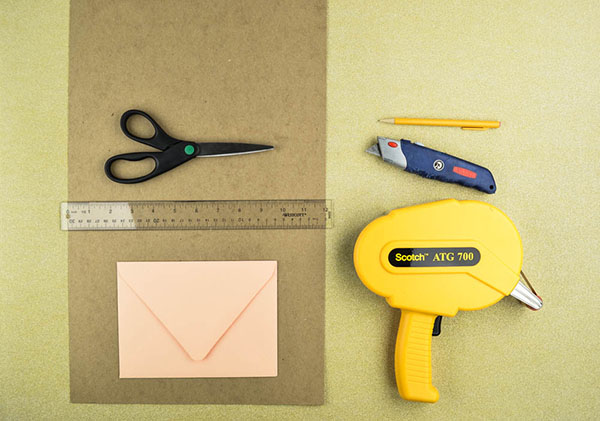 Step 1
Use the item you want to store in your DIY storage box as a guide for your template. Here we used an A7 Envelope because that will be the largest item in our giveaway box. Lay your card or envelope flat on a piece of chipboard, museum board or cardboard. Outline the card or envelope with pencil.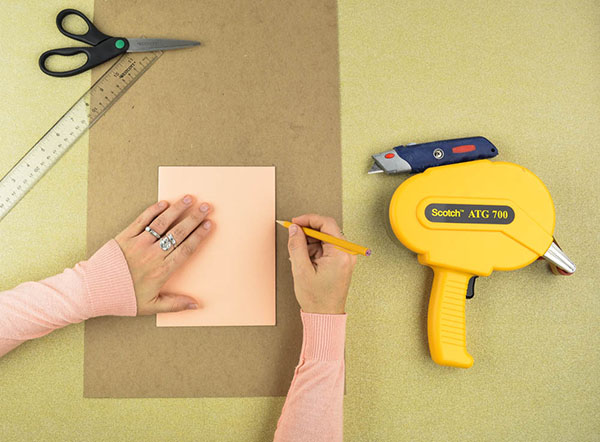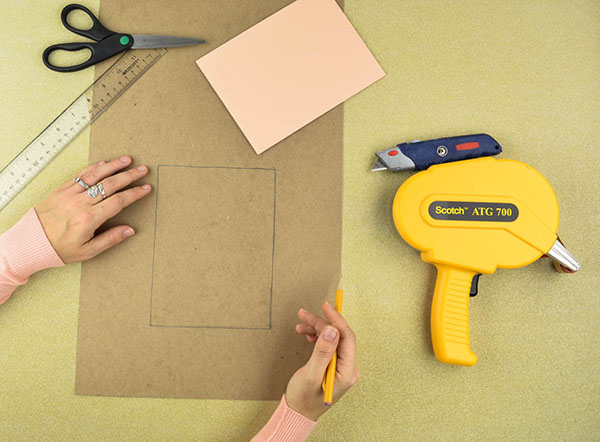 Step 2
You will need a bit of wiggle room around your cards and envelopes so use your ruler and draw a new set of lines about 1/8" around your original outline. This will be the finished size of the bottom of your DIY card box.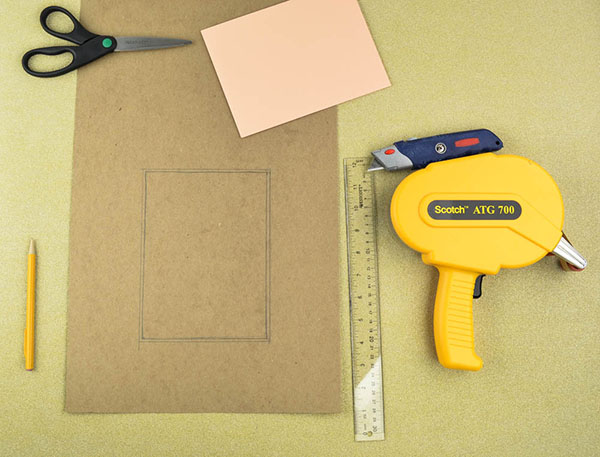 Step 3
Decide how deep you would like your card box to be and add that length to each end of your outlines. For example, if you want your DIY card box to be 3" deep, extend your lines 3″ on each side.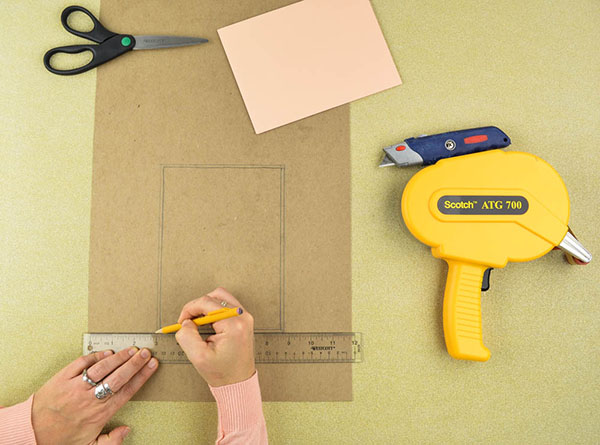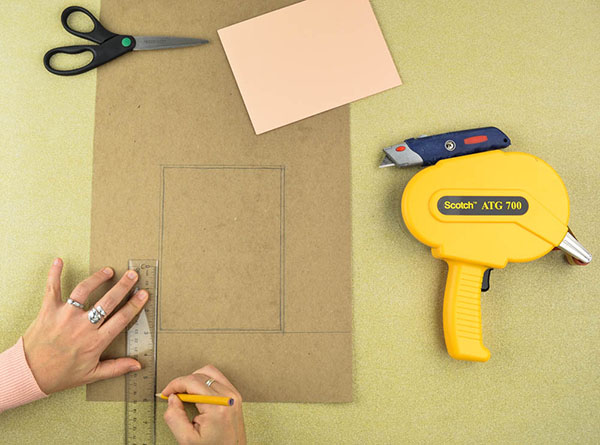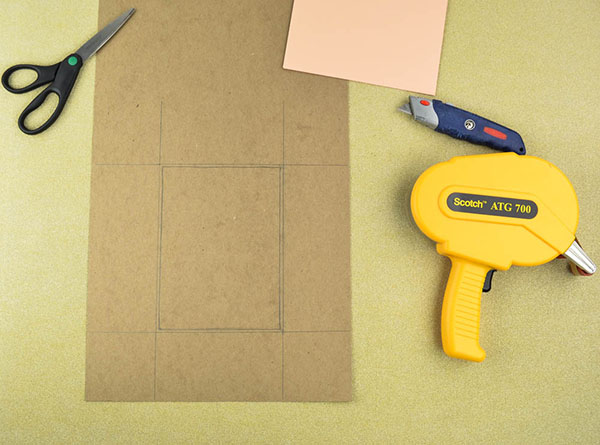 Step 4
Using your ruler connect the ends of your lines. Keep your lines as perpendicular as possible, if your angles are not correct you may have trouble assembling and wrapping your card box. Measure everything to make sure it is exact in each direction so the tops will line up when you fold up the sides.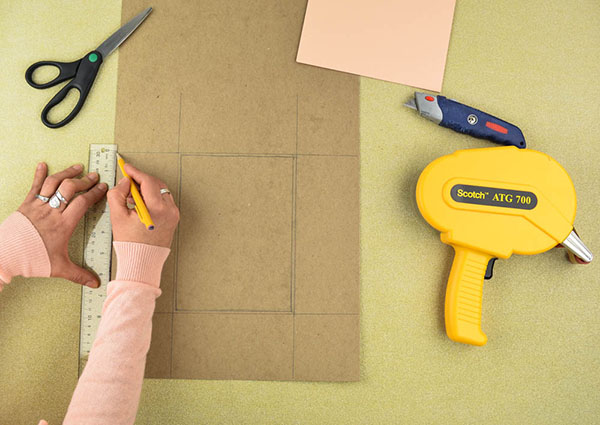 Step 5
Now it is time to cut the foundation of your DIY card box. Chipboard and cardboard are heavyweight, so be very careful what tools you use. We cut our template on our laser-cutter but for the sake of this tutorial we are cutting with a box-cutter along ruler. Carefully cut along all the outside lines.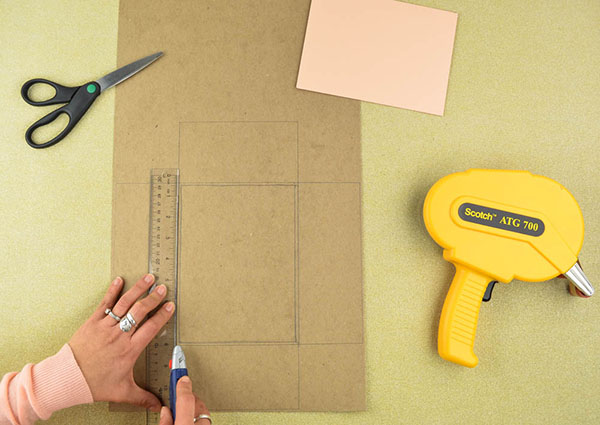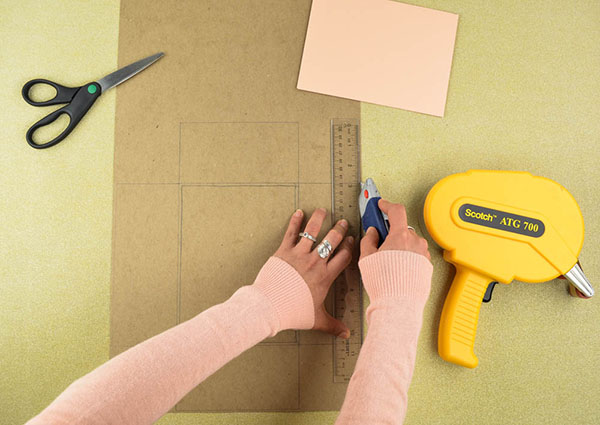 Step 6
Using a box-cutter or razor-knife along your ruler, carefully cut into the lines that outline the BASE of your DIY card box. These are the lines you drew when you added 1/8" around your very first outline. DO NOT CUT THROUGH the cardboard but apply enough pressure so that you can fold along your cuts and form your box. Your goal here is to cut through the chipboard/cardboard enough to fold the edges but not so much that your sides tear off the base.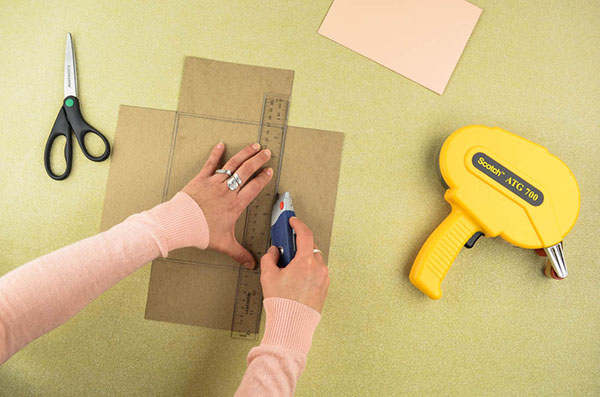 Step 7
Now the foundation of your DIY card box is ready. Next you will use it as a template for your Gold Glitter Paper wrap. Place your card box template flat down on the backside of your Gold Glitter Paper or other decorative paper and trace around it with a pencil. BE VERY PRECISE and focus on making sharp corners. Add the lines for the base by connecting the inside corners.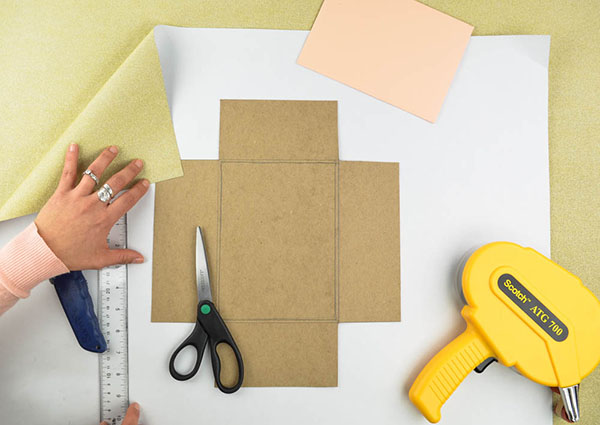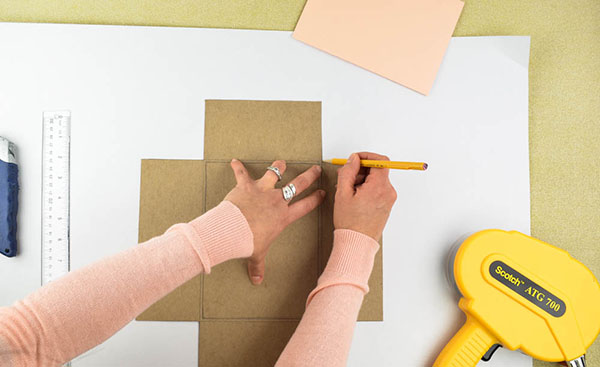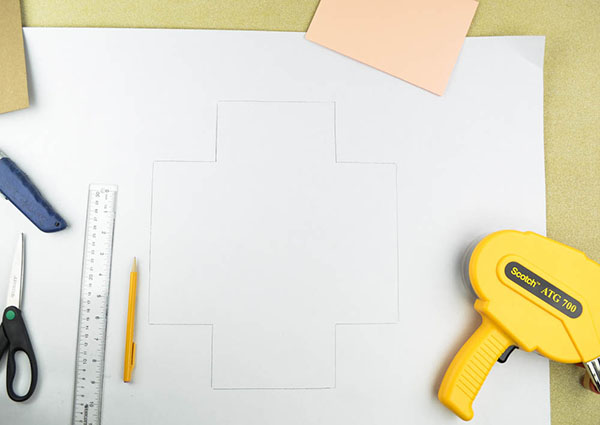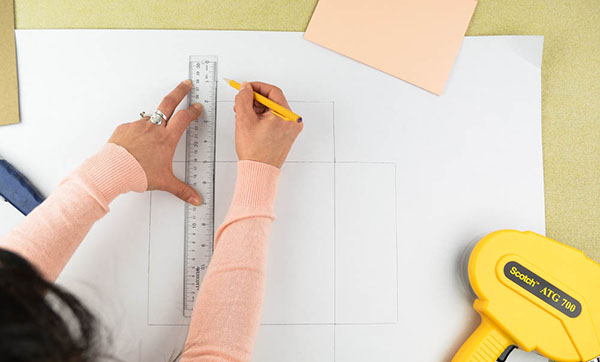 Step 8
You will need about a 1" of glitter paper to wrap around the top of your box on each side, and also to wrap around each corner to hold the sides together. Draw a 1" tab on the top of each side and also along the right edge of each side. These lines do not have to be perfect, just give yourself enough space on each tab to apply a strip of double-sided tape or whatever fast-drying adhesive you want to use. We will be using a Scotch ATG 700 double-sided tape gun.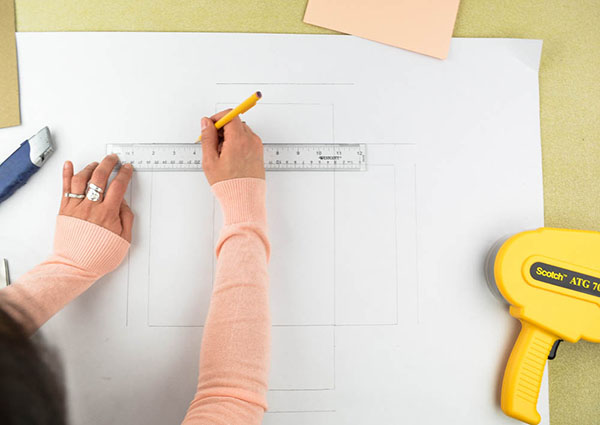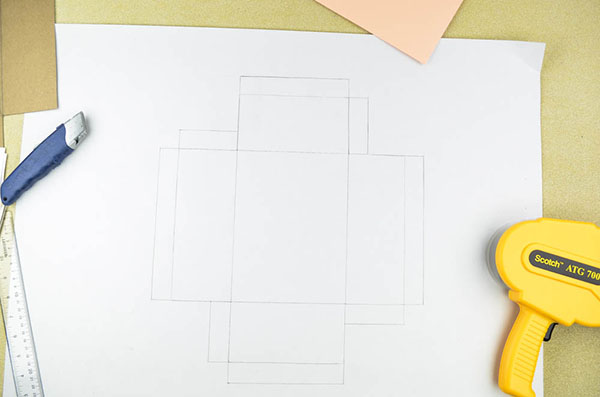 Step 9
Use scissors to cut along your lines, making sure you cut perfectly into each corner. If you do not cut to the corners your Glitter Paper will warp and not line up correctly when you wrap your adhesive tabs over the tops.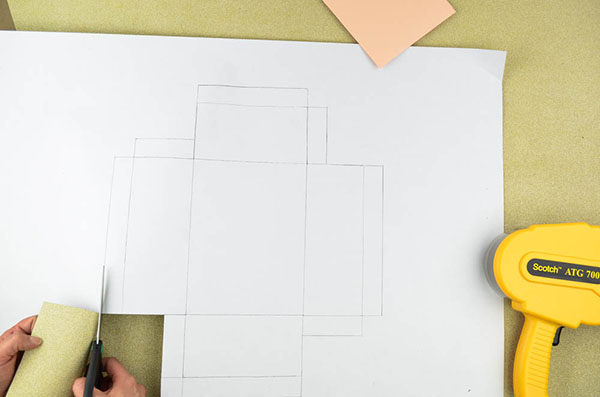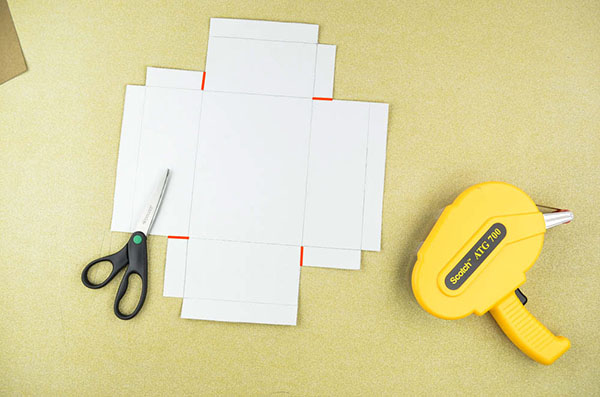 Step 10
Apply double-sided tape to the backside of the Gold Glitter Paper where we have highlighted below.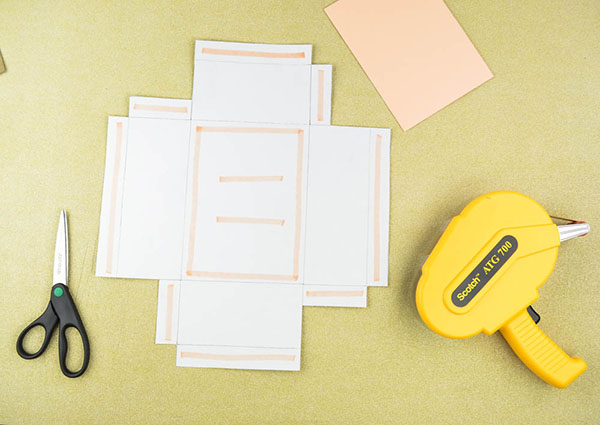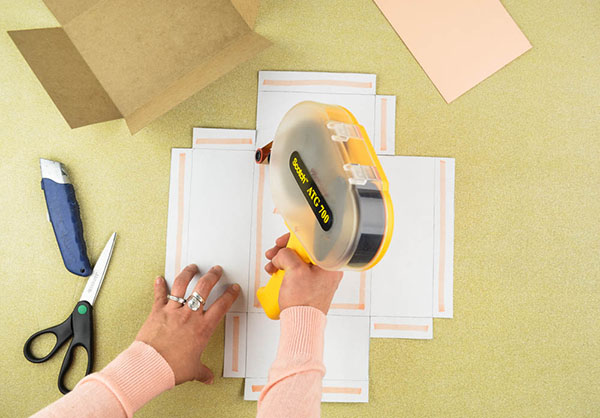 Step 11
Carefully fold up the sides of your cardboard box and line up the rectangular base with the base tracing on your Glitter Paper. Pay close attention to where the corners will land and only apply pressure when it is centered correctly. Another set of eyes is helpful for this step.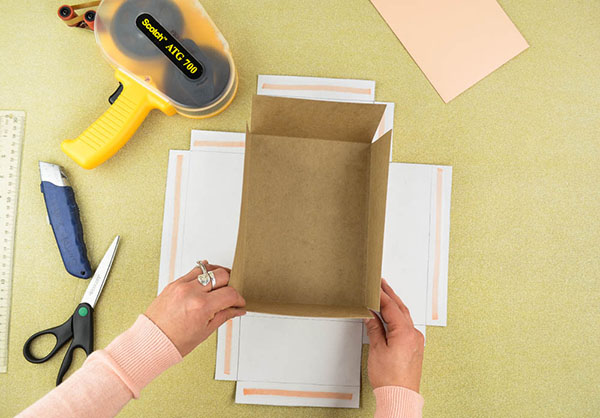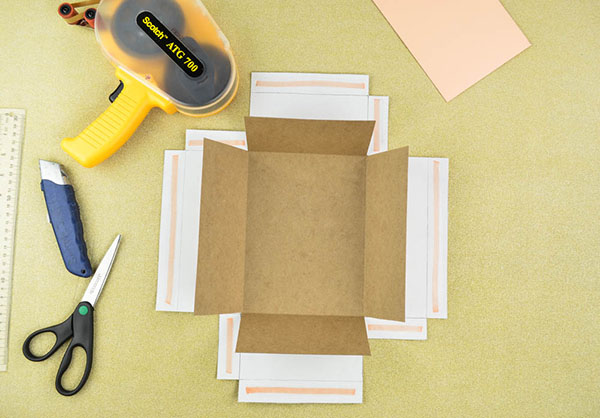 Step 12
Now it's time to start wrapping your Gold Glitter Paper storage box! While holding one corner of your box upright, bring up the Gold Glitter Paper and wrap the tab tightly around the corner. The tab should adhere snugly to the adjoining side of the box and hold the corner together.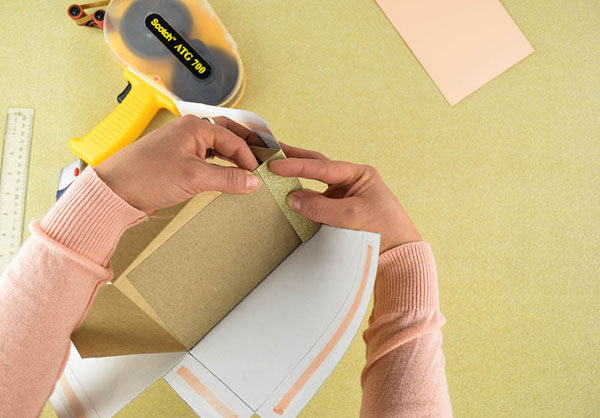 Step 13
Moving clockwise around the box, continue adhering the tabs around the corners and covering them with the next side until you get back to your first side, tucking the final tab under the paper you left loose on the first side.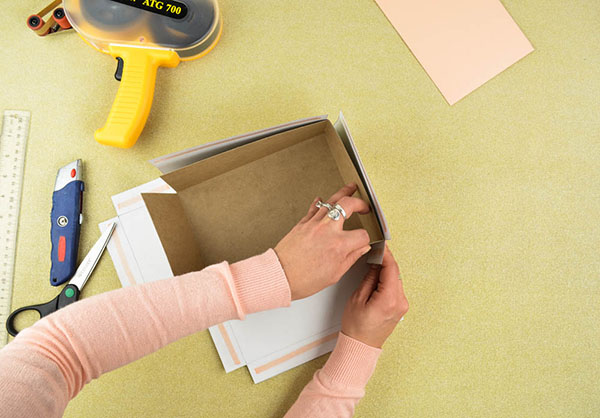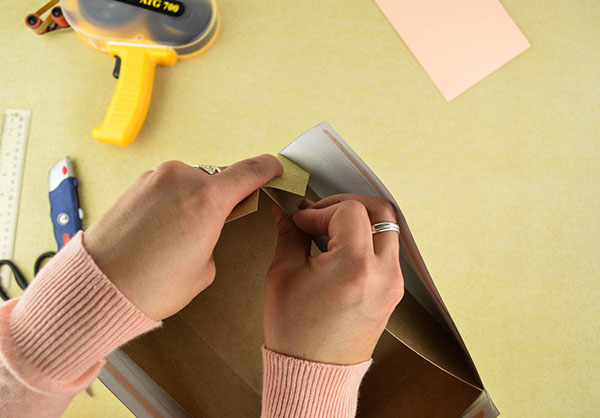 Step 14
To finish off your DIY box, wrap the final 4 tabs around the top edges as tightly as possible, starting with the same side you began with in the last step, adhering the top tab to the inside edge of your DIY card box.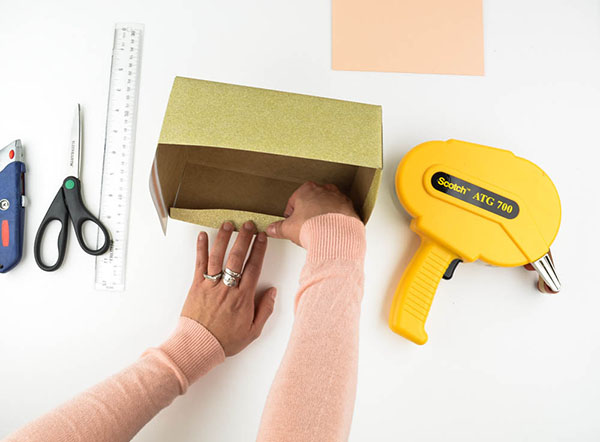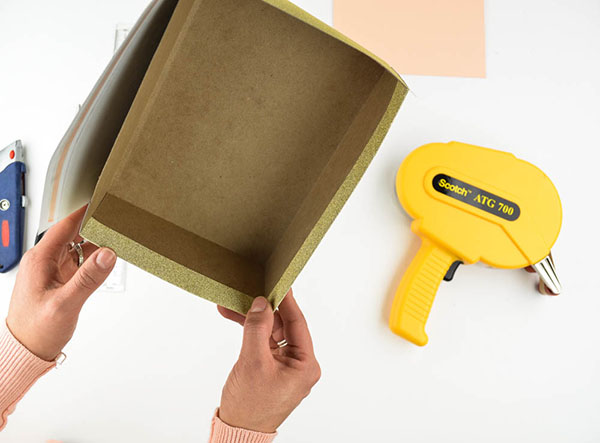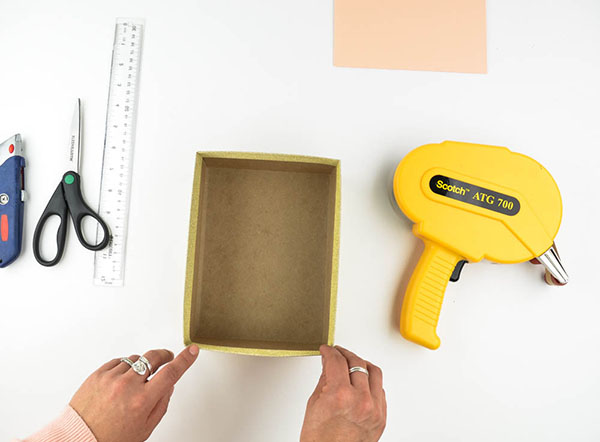 Step 15
Now your Glitter Paper box is complete! We hope you enjoy this tutorial and share with us your own creations!! If you would like to make a box like ours, the depth is just under 3" and you can use our Gold Glitter Paper (text-weight) in the quarter sheet size. Be sure to check out our instagram giveaway and enter for your chance to win this gorgeous gold box of some of our favorite colors of cards & envelopes!
Pinterest Image: