Envelope liners are such a pretty trend that will really dress up your DIY wedding invitations. They're a great way to add elegance, color, or something fun and custom to your invitation suite. And although they seem simple and straightforward, adding envelope liners can be a bit tricky if you're not sure how to coordinate the size to best fit your wedding envelope, how to make your own custom liner, or how to assemble them. Let's go over the basics about envelope liners so you can add them to your wedding invitations with confidence.
How Do I Find the Right Size Liners for my Envelopes?
Since the shape of the envelope flap will be slightly different everywhere you buy envelopes from, it's best to purchase envelopes and liners from the same vendor to make sure they will line up exactly. Of course, you can also cut out your own envelope liners, but it is much more time consuming and won't guarantee perfect and uniform liners.
All of Cards & Pockets' most popular envelope sizes have coordinating liners that match up perfectly, for both Euro and Square flap envelopes. Pre-cut envelope liners are available in solid matte and metallic paper colors, real wood paper, laser-cut designs, and patterned envelope liners.
What's the Best Way to Make My Own Custom Envelope Liners?
Custom envelope liners are such a fun way to add a personal element to your wedding invitations. If you want to DIY custom envelope liners to match with your invitations, there are a few ways to do this.
One option is to use your envelope to trace the right shape envelope liner onto the back of your liner paper, and then trim each one by hand. This can be very time consuming, though, and might result in wobbly edges if you're trimming them one-by-one with scissors.
Another way to DIY custom envelope liners is to create your design digitally, and upload to the "Print Your Own" section of our website. We have guidelines you can use while designing your liner file to see exactly where the liner will be trimmed out of the design. You can find downloadable pdf guidelines for all envelope sizes listed under "Envelope Liner Templates" here. Your design will be printed and trimmed into neat, matching envelope liners. You can choose to have them mounted to envelopes for you, or you can go the DIY route and assemble the envelope liners at home.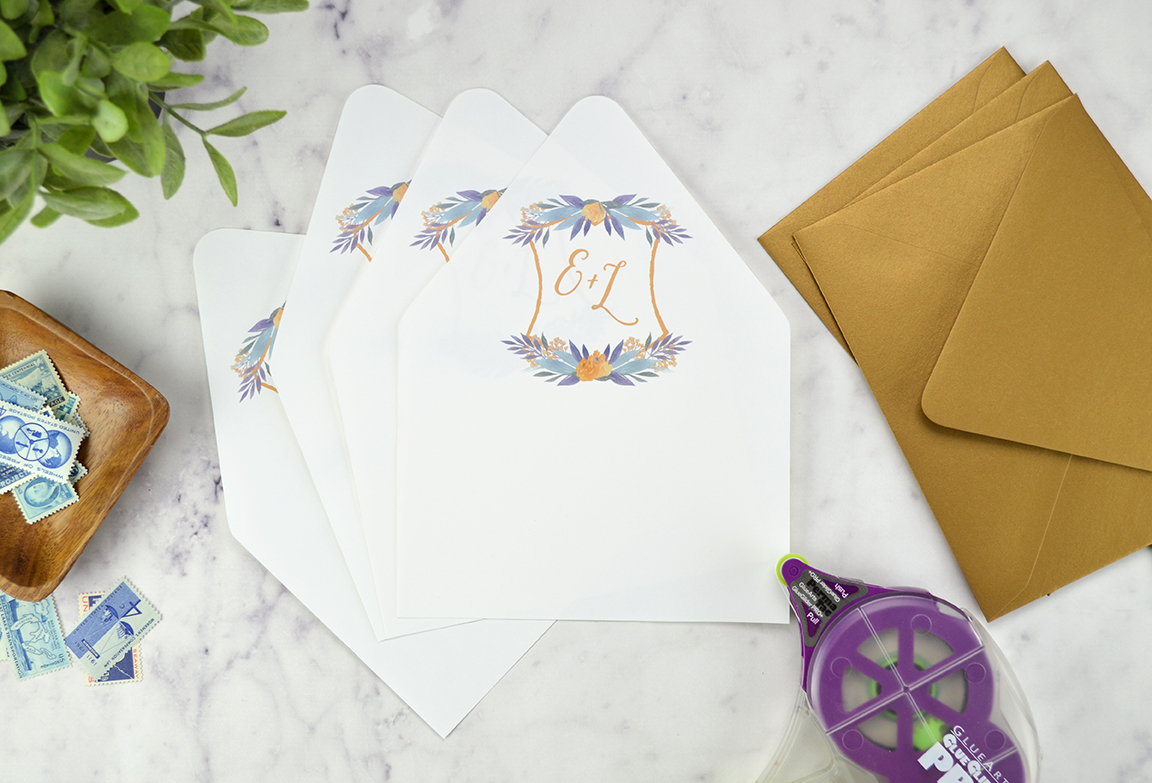 What's the Correct Way to Line an Envelope?
There really is no one correct way to line an envelope. There are many tutorials out there and everyone has their own way that they find easiest and quickest, but this is the method that seems easiest to us:
1.) Turn your envelope liner over and apply a line of tape near the edges of just the envelope's flap. (We use a GlueGlider Pro, but you can use any tape dispenser, or even double sided tape if you'd like).
2.) Carefully flip over and slide into your envelope, holding up the top so that the tape doesn't touch the envelope until in place.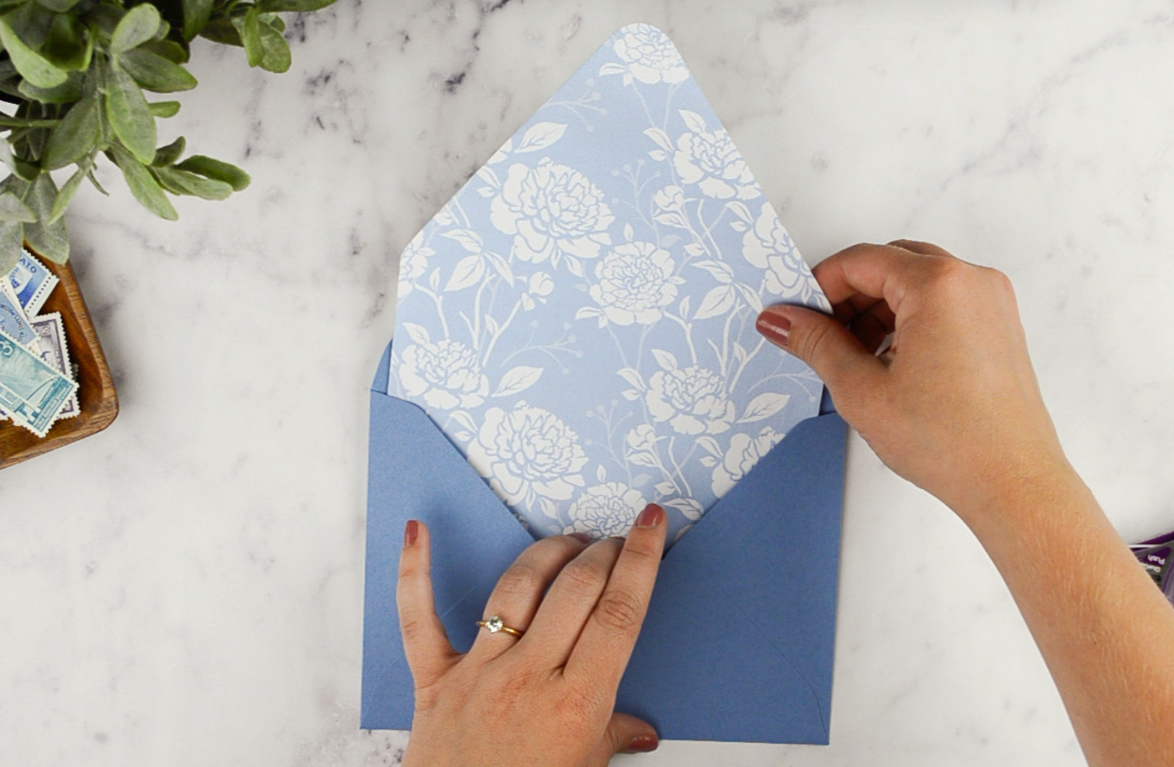 3.) Center the liner in the envelope, just touching or slightly under the envelope's glue line, and press down to secure in place.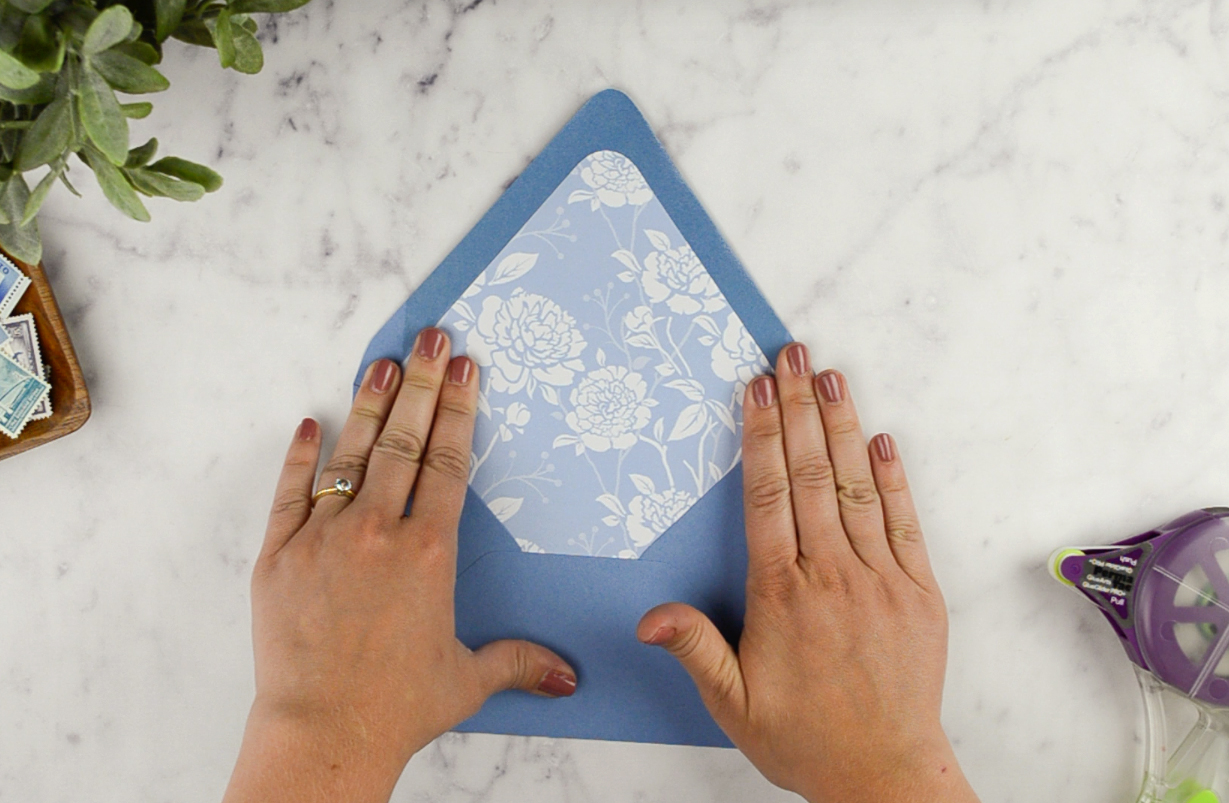 4.) Fold along the envelope's fold line, and you're done!
Some tutorials instruct to slide the liner into the envelope first, then fold the envelope and liner together before applying adhesive to the liner. We've found that securing the liner in place before folding helps to make sure the liner doesn't shift in place and come out uncentered or crooked.
We hope this makes envelope liners seem a little easier to DIY! Click here to browse our envelope liners in all sizes, shapes, colors, patterns and textures. Do you have any other questions about using envelope liners? Any helpful tips that have worked for you when assembling? Please leave them in the comments below!
Happy DIY-ing!
Save to Pinterest: