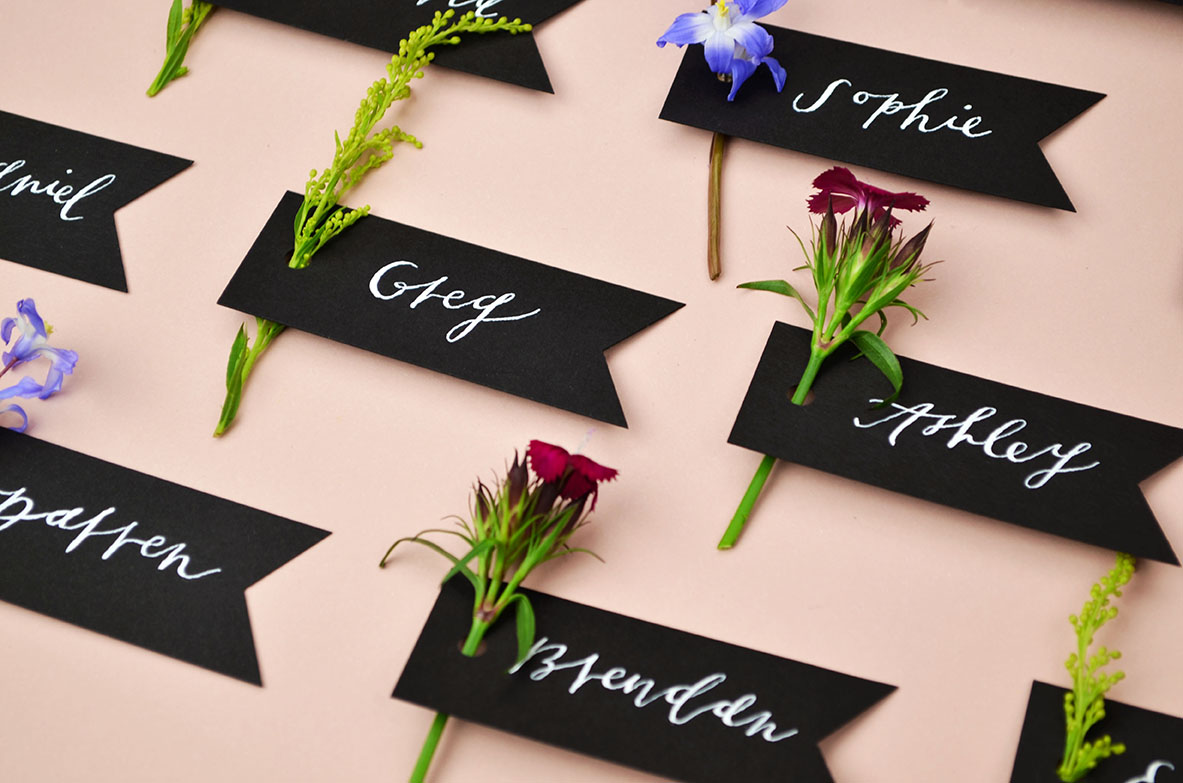 Spring is the perfect season to bring in pretty day-of details and decorations that will make your wedding one to remember. Place cards are one detail to consider! Taking the time to prepare place cards or escort cards for your guests will make them feel special and appreciated for attending your wedding or event.
[ Psst…wondering the difference between place cards and escort cards? Place cards have the guests' name and sit at each place setting at the table. Escort cards include guests' name and table number, and would be collected by guests prior to being seated. This means that guests can pick their own seat at the table assigned to them. ]
Without further ado, here are four place card or escort card ideas for a spring wedding, shower, or event that are easy to prep and sure to delight your guests!
1.) Paper Leaves 
Have you seen this recent trend? Using leaves for place cards is such a fun idea! It brings a pop of color to your tables, and greenery can be easily incorporated into any wedding style. Use paper leaves as a stress-free alternative to real leaves – you don't need to add a sealant to protect them from drying, and there's no need to worry about fragile leaves breaking.
An added bonus is that these can be prepared far in advance of the big day! Choose from a variety of leaf paper shapes and color options, then letter each guests' name for a personal touch. You can place them at each table setting for name cards, or add the table number and set up a display to serve as escort cards.
2.) Vellum Paper
Delicate and pretty, vellum paper place cards will add a soft, romantic touch to your tables. Trim vellum paper into rectangles and letter your guests' names for an easy but effortlessly romantic place card idea.
Find our Vellum Paper here
Other ideas for embellishment: layer over different colored paper and fasten with a brad, punch a hole and add a ribbon loop to one end, layer over cardstock with wax seals.
3.) Paper Tags with Flowers
Paper tags are a great choice for place cards because they're so versatile! You can tie them with string around a cloth napkin at each table setting, hang them as a seating chart, or tie them around a small wedding favor. Take your pick from 28 laser cut style options and over 120 colors to customize and coordinate with your wedding.
There's nothing better than fresh flowers in the spring! Place the stems of fresh flowers and greenery sprigs in the hole of paper tags for these sweet DIY place cards. Add plants to lettered tags on the day of the wedding/event or use dried or fake flowers to prepare ahead of time.
4.) Bird & Feather Shapes
Add some feathered friends to your wedding tables by using laser cut bird or feather shapes as place cards. Choose from over 130 colors to fit your wedding colors.
Birds and feather place cards would be perfect for an outdoor garden wedding, woodland celebration or shower, or a boho themed wedding. Add hand lettered names and embellish with gold leaf, paints, or glitter – it's up to you!
You can shop all of our paper shapes here to come up with your own unique DIY place cards!
Happy DIY-ing!
Shop This Post
Save to Pinterest: