We sure do love summer weddings! Fun color palettes, bright florals, tropical touches, or beach vibes – summer weddings are full of the prettiest details, no matter what your wedding theme is. One detail that should not be overlooked is wedding place cards or escort cards! Although a small detail, place/escort cards give you a big opportunity to tie in your wedding theme and delight your guests.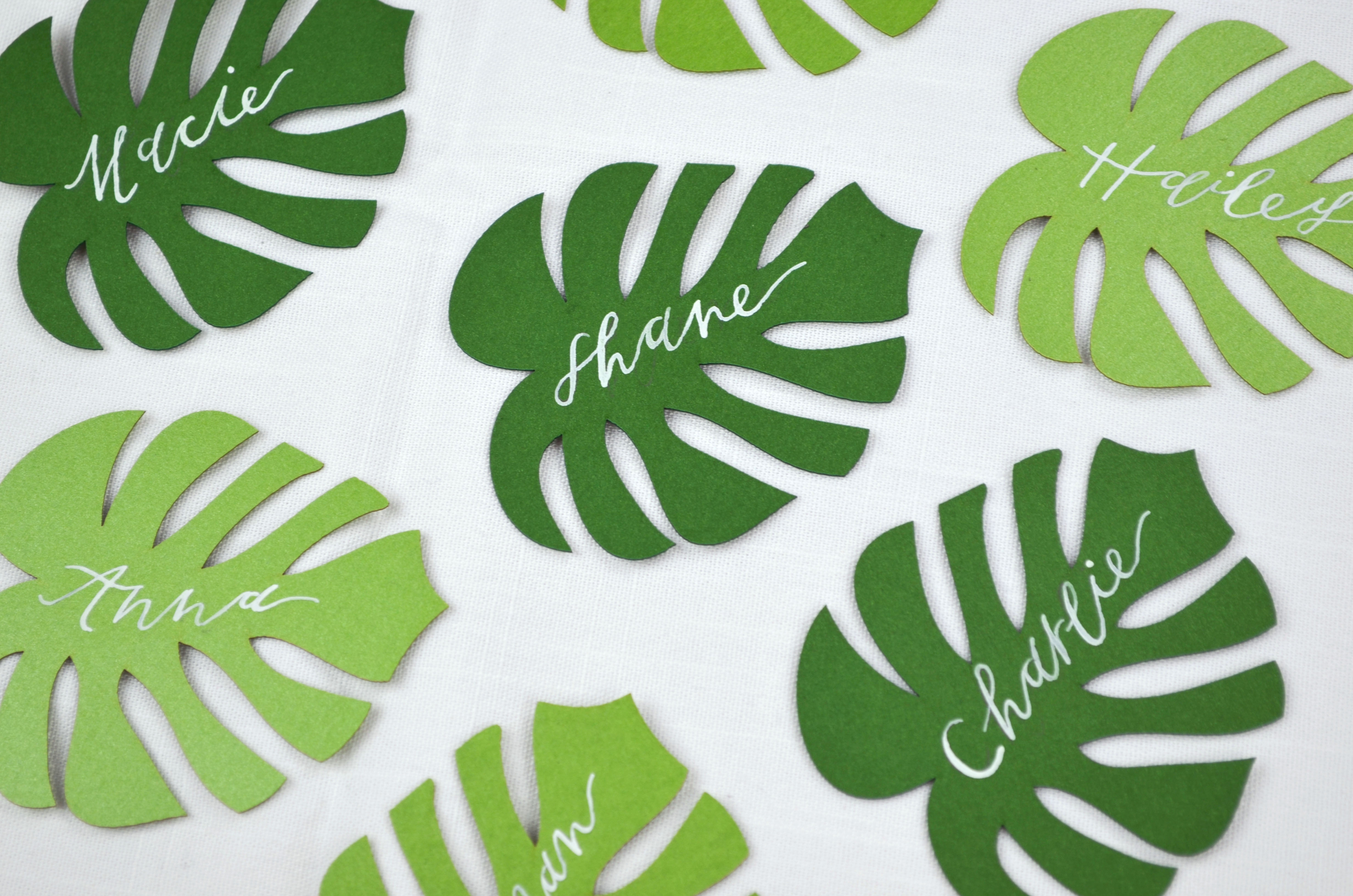 [ In case you're wondering what the difference is between place cards and escort cards, we'll fill you in! Place cards have the guests' name and sit at each place setting at the table. Escort cards include guests' name and table number, and would be collected by guests prior to being seated. This means that guests can pick their own seat at the table assigned to them. ]
Here are four place card/escort card ideas for summer weddings, showers, or events that are easy to DIY, affordable, and fun!
1.) Ombre Colored Cards
One of the best parts about summer weddings is all of the bright, fun colors! Incorporate multiple colors by doing ombre place cards! It's a simple idea that creates an impressive display. We used an assortment of pinks, oranges, and blues, but you can pick any colors you'd like.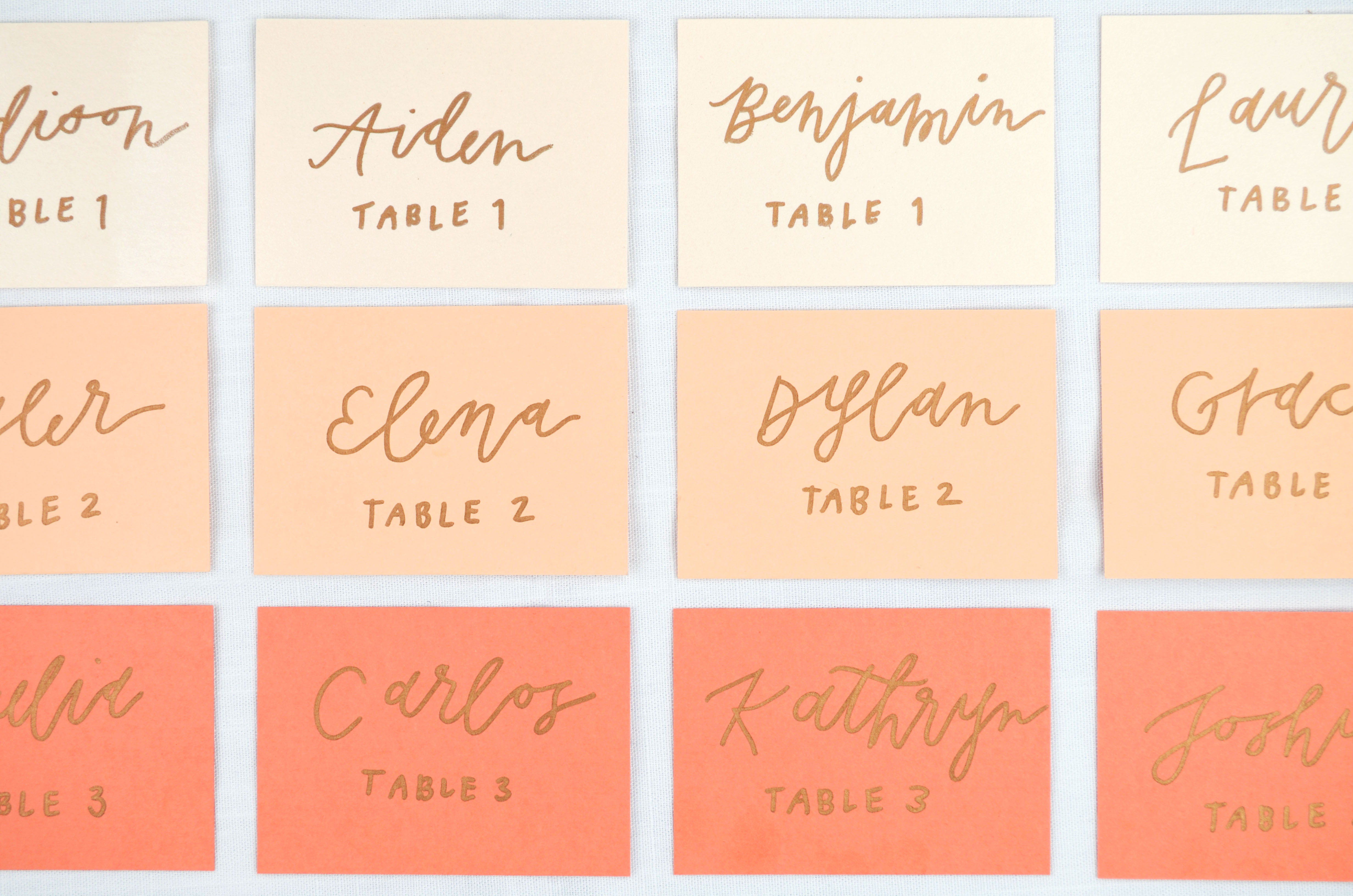 You can use colored cardstock cut into the size of your choice, use watercolor paper and paint your own watercolor washes, or even pre-scored folded cards (2×4" or 2×3") in assorted colors.
8.5 x 11″ Cardstock (trimmed to 2.5 x 3.5″ pieces). Shown in Soft Coral, Peach, Coral, Lagoon, and Peacock Teal
Write each guests' name and table number on the cards, and display in rows that go from one color to the next.
2.) Tropical Paper Leaves
Going tropical? Having a destination wedding? Use our "Tropical Leaves" as your place cards, laser cut to the shape of monstera leaves. Choose from over 120 colors to fit your wedding, and hand letter each guests' name.
Your calligraphy doesn't have to be perfect; your guests will appreciate the thought and time put into such a personal touch!
3.) Fresh Fruit with Paper Leaves
Use fresh fruit for your place cards! It will add an organic element and fun pops of color to your wedding tables. Hand letter your guests' names on laser cut tags or paper leaves, and use push pins to attach to the fruit. Citrus fruits are perfect for summer settings!
Prepare the leaves ahead of time without worrying about them breaking or drying up before the big day! You can even buy and keep the fruit safely days ahead of time.
4.) Starfish Laser Shapes
Perfect for a wedding on the beach or with a nautical theme! Laser cut in metallic papers, these starfish will look so pretty on your wedding tables. They're more lightweight and affordable than seashell place cards, and still have a festive but elegant feel.
Choose from over 120 colors – you can go bright and fun, or soft and sophisticated.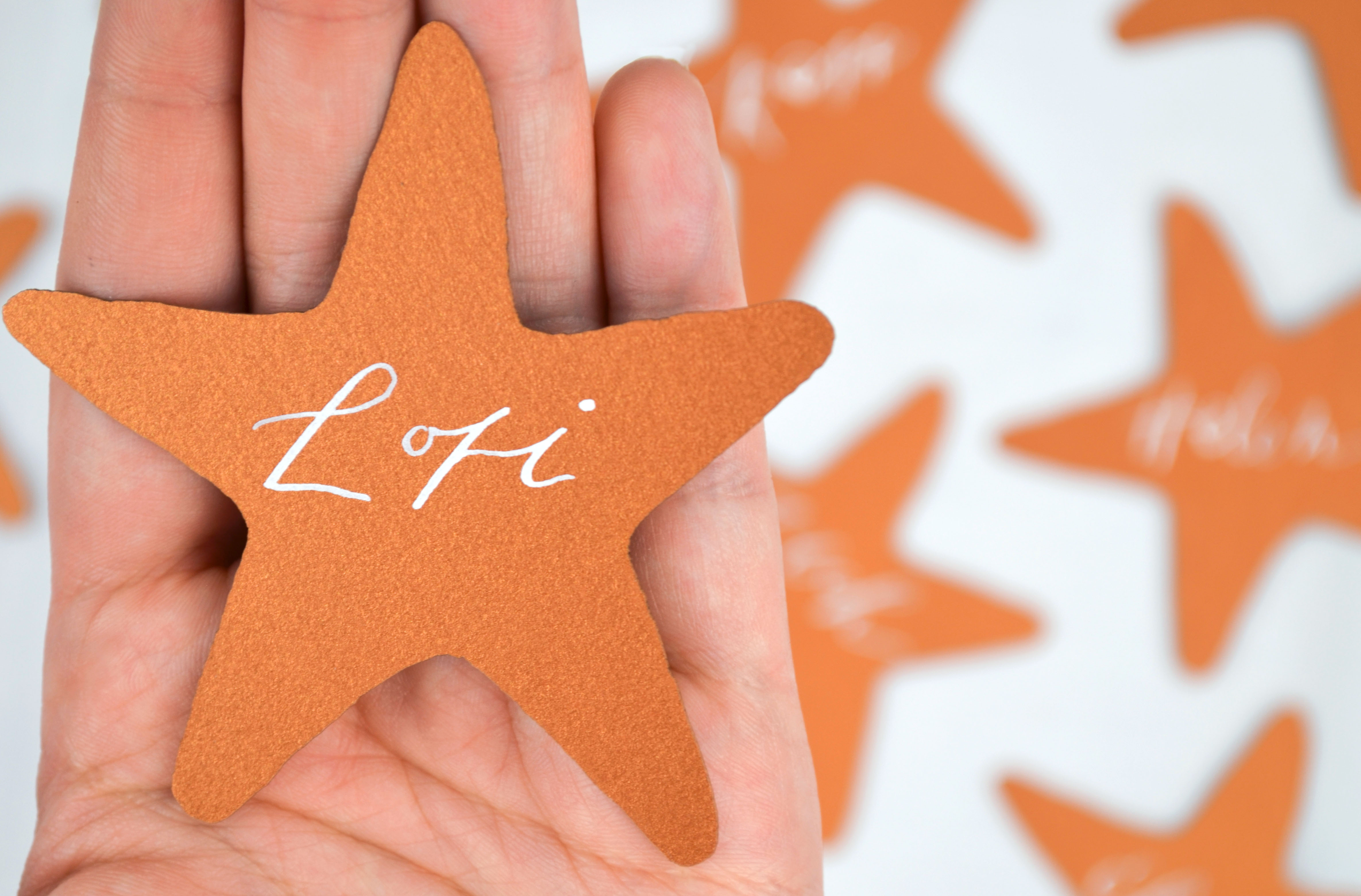 You can shop all of our paper shapes here to come up with your own unique DIY place cards!
Happy DIY-ing!
Shop This Post
Save to Pinterest: