Rose gold, blush, glitter, and mirror paper all in one suite? Yes, please! This stunning suite is an easy DIY and only costs $2.11 per invitation set. We used one of our free invitation templates in a simple, but elegant design and layered it with both glitter paper and mirror paper with rose gold hues to add texture, sparkle, and shine. Read on to find out exactly what you need and how to assemble these glamorous invitations for your own wedding.

DIY this suite at $2.11 per Invitation Set
Shop This Post
1.) Start by visiting our page of free wedding invitation templates, and edit the "Classy" template with your names and wedding information. Download for free via email, or upload to have them printed and trimmed for you.
2.) Print yourself at home on White cardstock. You can format to fit an invitation card and RSVP card on one 8.5 x 11″ sheet of paper.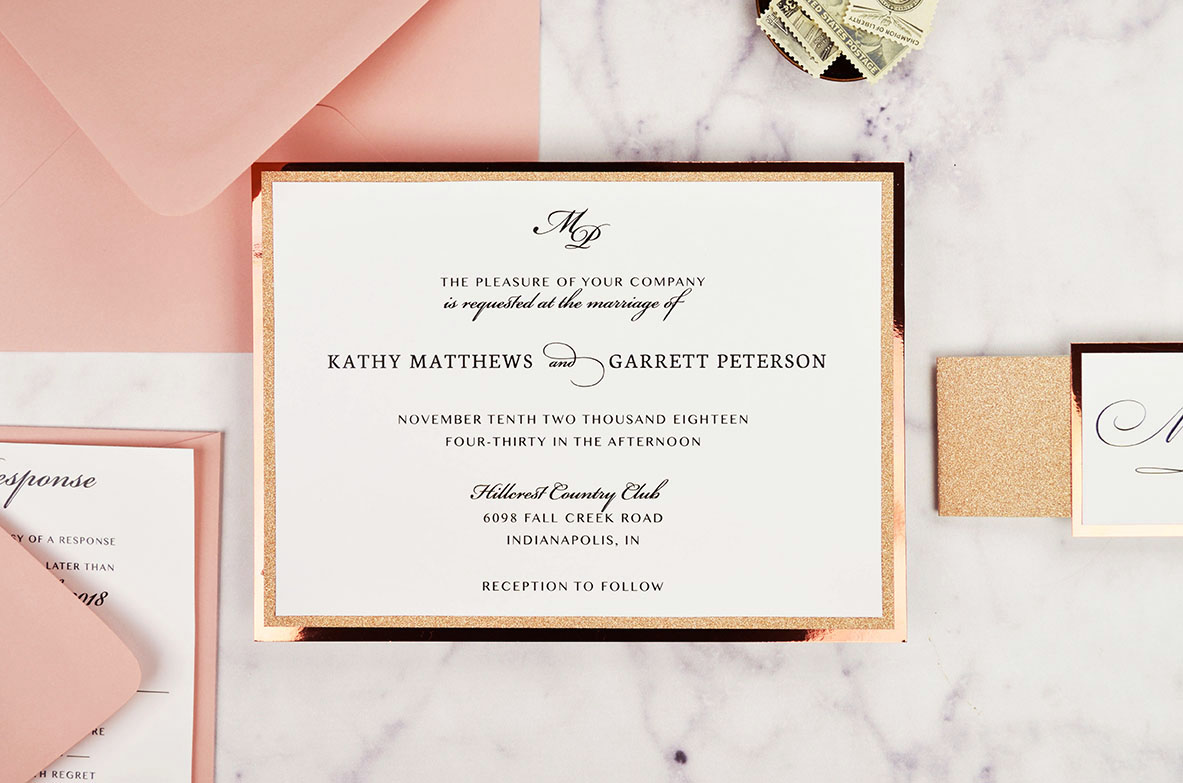 3.) Use a paper trimmer to cut out all invitation and RSVP cards. The invitation card should be 5×7″ and the RSVP card should be 4.25 x 5.5."
4.) Use a tape dispenser to put tape on the back of your invitation card, then center and attach to the Glitter Sand invitation mat.
5.) Now put tape on the back of your invitation mat, center, and attach to the Mirror Copper Panel Card.
6.) Use tape to attach your printed monogram to the Copper Mirror square backer.
7.) Take your belly band, and line it up on the front of your invitation card so that it's straight and centered. Carefully fold one side of the belly band back against the edge of the invitation. Flip over your invitation, and line up the second side of the bellyband with the first side before folding. Secure the overlapping ends in place with tape or glue.
8.) Turn your invitation over the front, and use tape to attach your monogram to the belly band so that it's straight and centered.
9.) Tuck your RSVP card under the flap of your pre-addressed and stamped RSVP (A2) envelope, and slide it under the belly band, on top of the invitation.
10.) Carefully slide your whole invitation suite into your mailing (A+) envelope, which should already be pre-addressed. Seal your envelope with Envelope Moistener with Adhesive for a secure seal.
You could also add a Mirror or Glitter paper envelope liner to your suite for extra embellishment!
Change up the envelope colors to fit your wedding style, or you can even change up the Rose Gold layers and change to Silver, Gold, or any of our colored Glitter and Mirror papers. See all of our Glitter paper here and Mirror paper here.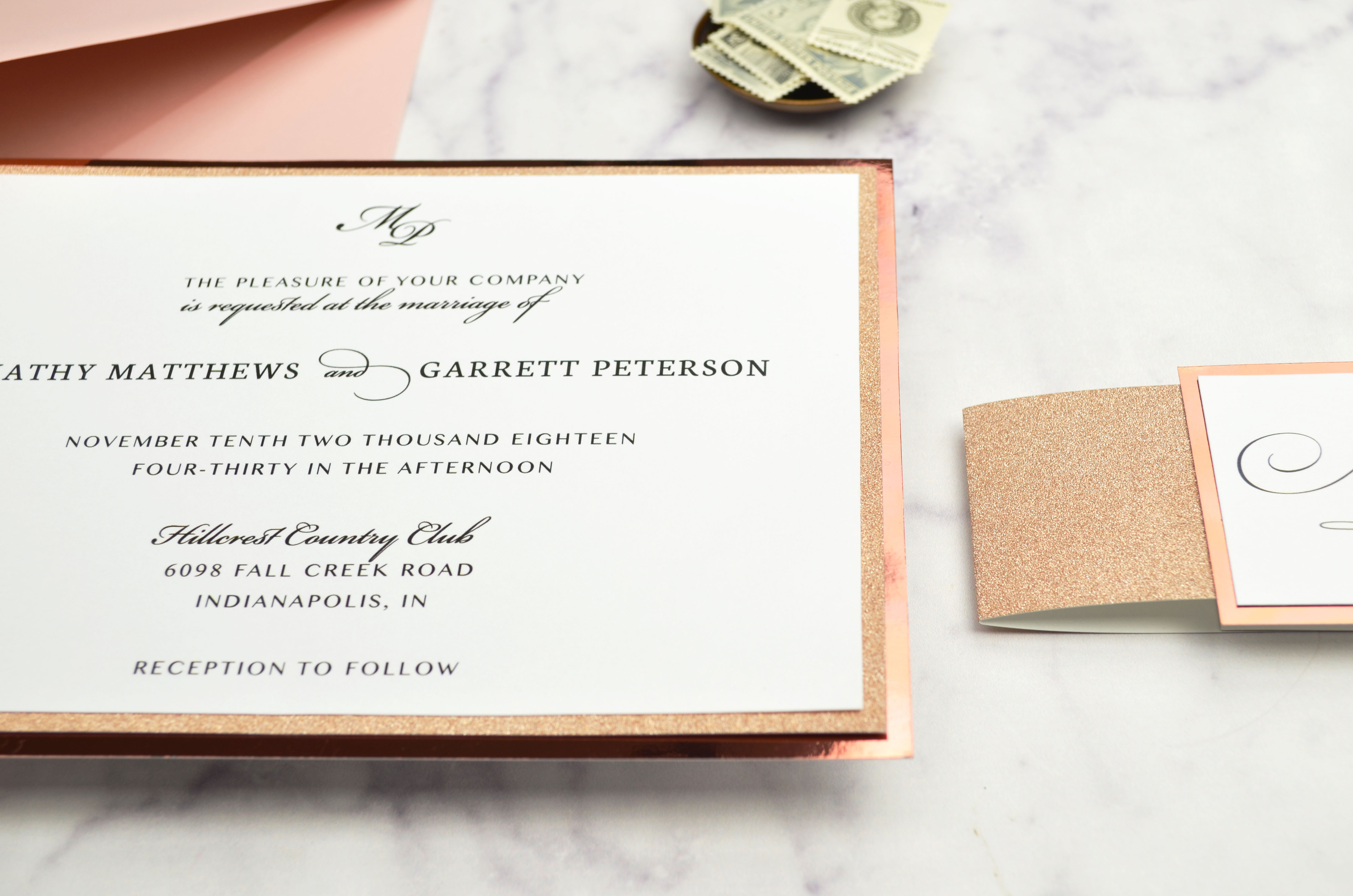 These invitations are sure to stand out when they reach your guests, and set the tone for your wedding. Let us know if you have any questions in the comments below.
Happy DIY-ing!
Save to Pinterest: