— Judith's Story —

My (now) husband and I got married on August 17, 2018 at mountain top of Hudson Valley, New York. I was inspired by the colors of the summer- floral, greenery, something fun & romantic.
My colors were gold, rose gold and blush pink. I wanted to be soft & full of sparkle at the same time.
Pinterest and a Facebook wedding group helped me a lot. I always knew I wanted a full wedding suite (with inserts & belly band).
My husband has the passion for graphic design, he actually helped me picked the template from C&P (we used Flower Bouquet). I have an eye for detail & a sense of creativity, it was a teamwork altogether.
My mother in law helped me assembled the Invitation cards, RSVP cards, Reception & Details card.


Glue Tape Roller
Cricut Explore Air – for cutting mats and addressing envelopes
Custom made address stamp from Etsy
Shop This Post

I created the files using the Template maker on C&P's website. Once I had all my materials and tools, the (fun) assembly began..
1.) The process first started by cutting the card stock paper into 4.75x 6.75″ with the help of my Cricut Explore.
2.) The mats were set in place with glue tape to the back of the A7 invitation cards. (Thanks Mom in law for the help!)
3.) I then assembled the RSVP cards with guest count and numbered at the back of it so I know who the guest was just in case they forgot to write their names. (Thanks Facebook wedding group for this tip)

4.) Four inserts were assembled from smallest to biggest, so that the insert headings could be seen. These 4 were carefully wrapped with the laser cut Gold belly band "W" (The initial of my husband's last name)
5.) After the invitations were fully assembled, my Cricut Explore & I spent the next few days to a week of writing everyone's mailing address onto the outer envelope. I then stamped our address on the return label.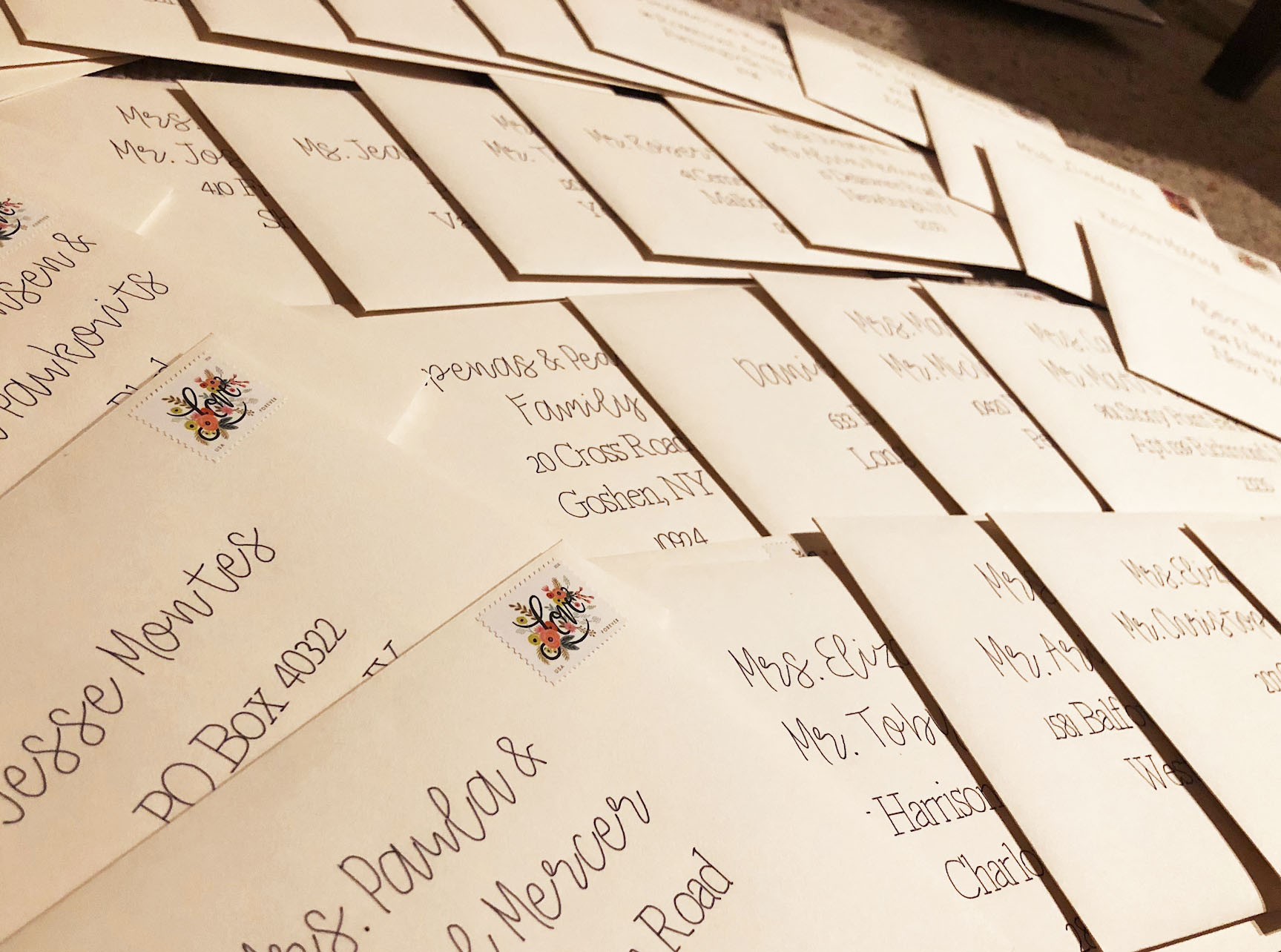 I DIY'd most of the details of our wedding with the help of my family & friends. From flower table centerpiece, to spray painted votive candle holders, to the invitations. It was indeed fun & rewarding! I'd do it again in a heartbeat. Don't be afraid to ask for help, it is a big task! Have fun and don't stress yourself too much.
Congratulations, Judith & Brian!
Thank you for sharing your DIY Story with us!

Save to Pinterest:
---

 At Cards & Pockets, we love DIYers.  We also know that one of the best ways to be inspired is to see and learn about other people's experiences.  We're excited to share stories of our customers unique DIY invitation process.
Do you have a unique DIY story for your invitations?  We would love to hear more about it. Simply visit our "My DIY Story" entry page and fill out the submission form and you could be selected for our next featured story!
Be an inspiration, share your story today!