— Aleksia's Story —

I drew inspiration from a lot of different places for my invitations and my wedding theme. I chose a pocket invitation because they look so classy and aristocratic. Also my husband and I love period movies and when there is a grand ball or event to take place, the invitations are always magnificent and laid out in some sort of pocket.
I was planning a spring wedding and I wanted the colours to be light and fresh, but also timeless. In the spring everyone looks forward to seeing the colour green return to the landscape so our colours were ivories, whites and fresh greens with hints of blush and champagne gold. I ordered many samples from C&P in various colours to get the exact look I wanted and in the end I decided that a simple Retangolo pocket in Snow White with 80 lb White Linen invites and an invitation Mat in Soft Coral would capture my vision perfectly.
Every aspect of the printed invitation I designed myself down to the calligraphy and hand-painted gold leaf border/accents. I also created the map on my directions insert! I used Autodesk Graphic, an illustrator program for MacOSX and chose my floral illustrations and font from Creativemarket.com to design and execute the invitation I wanted. This process was so fulfilling and fun for me, it was probably the least stressful DIY I did for my wedding. The results were undeniably perfect and exactly what I wanted.
My husband (then fiance) was the best sounding board for my ideas and always offered a welcome and honest opinion when it came to the design process. My close friend and bridesmaid Courtney also help me a ton when it came time to assemble and mail the invitations out! She handled the wax sealing and address writing as well as tracing guidelines for me while I did the personalized calligraphy on the outside of the pockets.

The invitation supplies mostly came from Cards and Pockets except for the envelopes, which I tragically forgot to order. I purchased the envelopes, wax seal stamp, gold leaf pen and ribbon from my local Michaels store. I also turned to Amazon.ca for the wax I needed for the seals, as well as some of my calligraphy supplies.

Shop This Post

1.) I adhered the invitations to the invitation mats and then to the pockets using a Scotch Brand adhesive roller with double sided tape.
2.) The whole assembly process was very simple and straightforward. I wanted to personalize each pocket with the names of the guests included with the invite and I did this on the back of the pocket by hand in calligraphy.
This was the most time consuming step and my bridesmaid helped me a lot by tracing guidelines on each pocket before I wrote out the names. I found that the paper quality of the pocket was perfect for this because it did not cause the ink to bleed or run.
3.) After I wrote out the names and the pockets were drying, I worked on adding gold leaf accents to the printed invitation and the inserts. I created a base paper with guidelines and used a ruler to draw out a border using a gold leaf pen I bought from Michaels. I also used that pen to add gold flecks to the floral illustrations.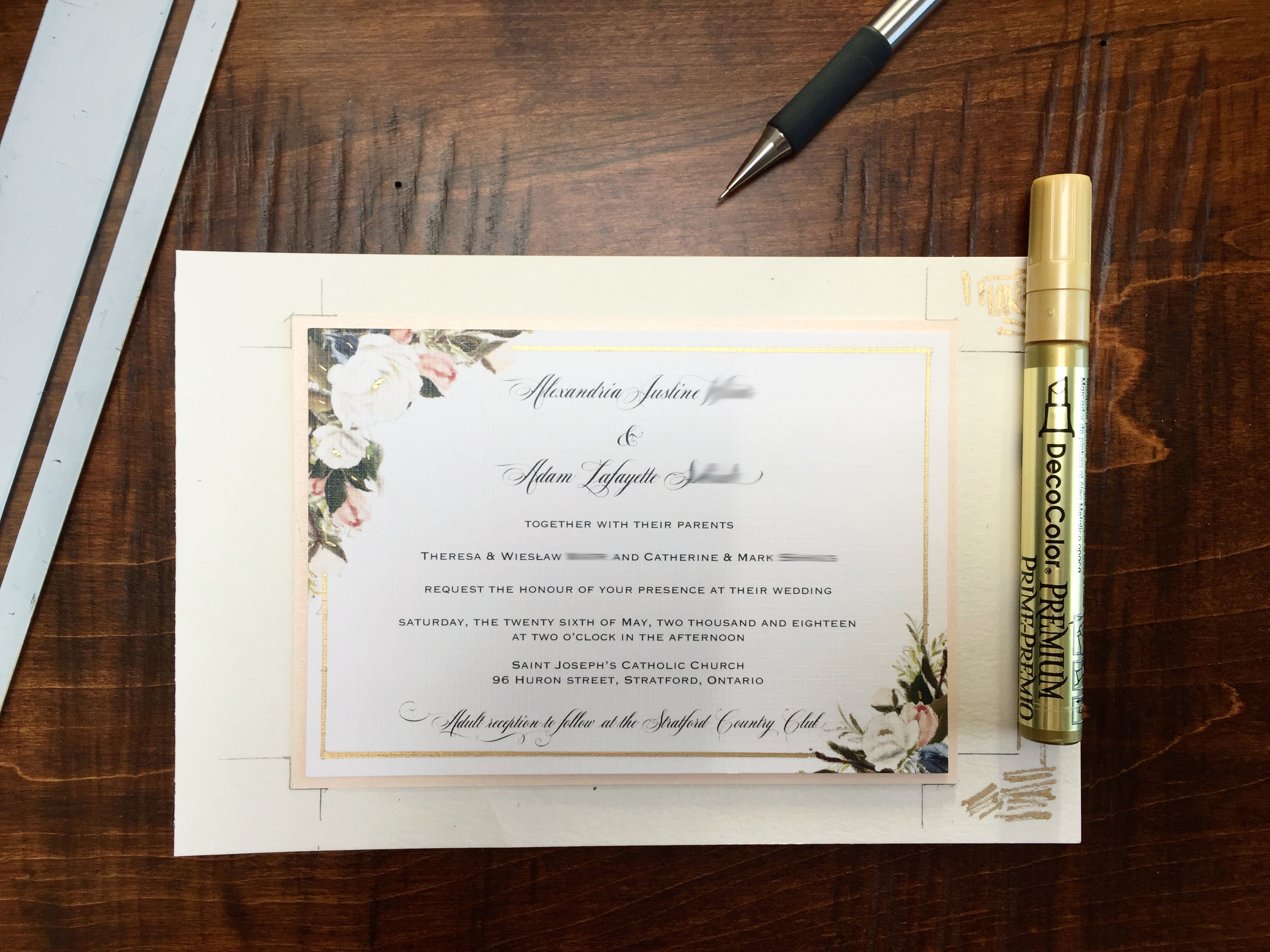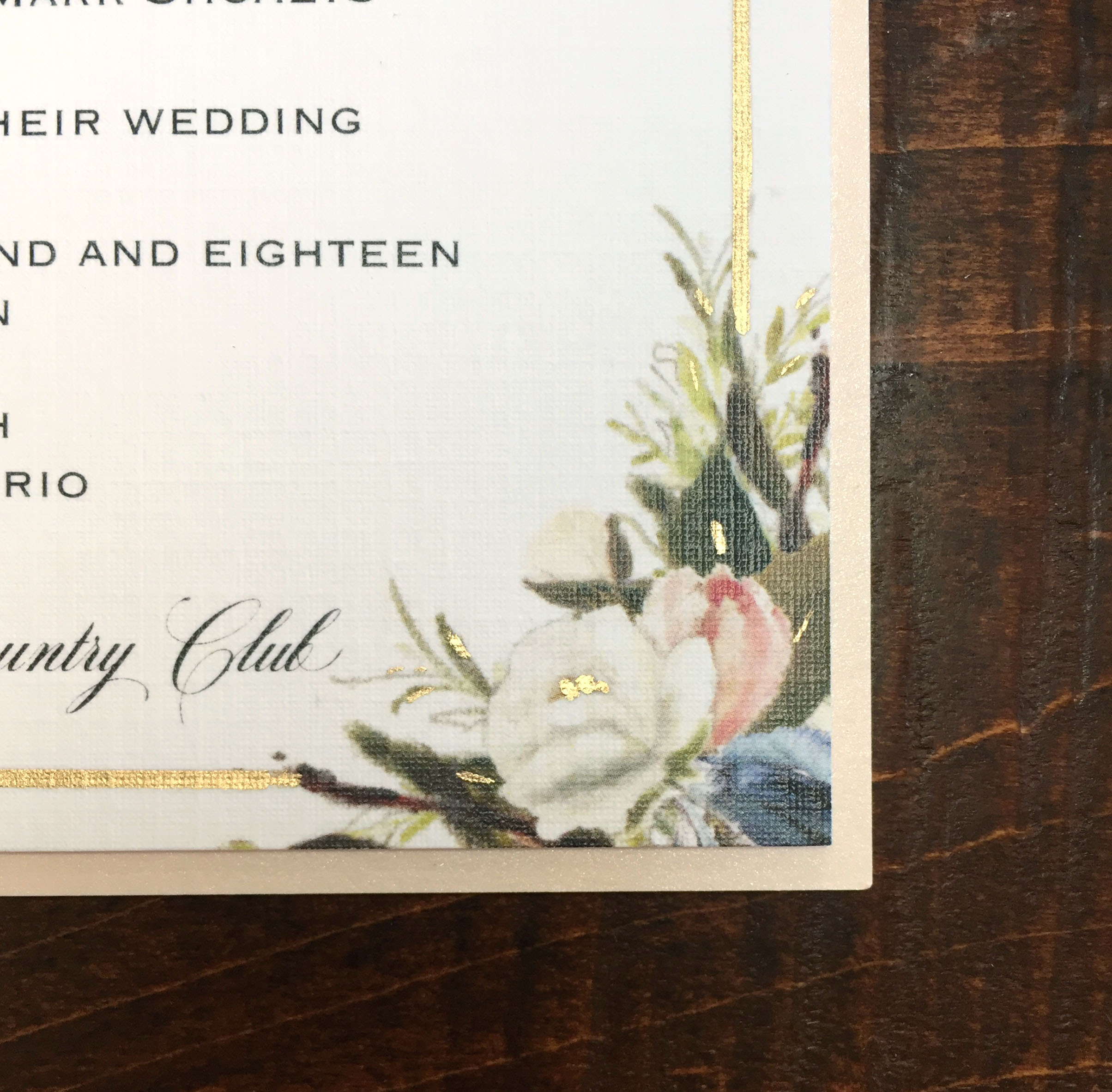 4.) I attached the main invitations to mats and then that combo to the pocket using Scotch double sided tape.
5.) After that we added the inserts and sealed each pocket with wax and ribbon. I had an online wedding website for my guests to RSVP through, so there was no need to include a return address envelope.

If you are designing your own invitations, I would highly recommend ordering a printing proof before submitting your final order.
Another tip is to have a clear idea of your vision before ordering any samples which helps to keep costs down. With that being said, C&P is very affordable.
Congratulations, Aleksia and Adam!
Thank you for sharing your DIY Story with us!

Save to Pinterest:
---

 At Cards & Pockets, we love DIYers.  We also know that one of the best ways to be inspired is to see and learn about other people's experiences.  We're excited to share stories of our customers unique DIY invitation process.
Do you have a unique DIY story for your invitations?  We would love to hear more about it. Simply visit our "My DIY Story" entry page and fill out the submission form and you could be selected for our next featured story!
Be an inspiration, share your story today!