— Jordis's Story —

For my wedding I wanted to use all whites and ivories so the natural surroundings stood out. I used cream puff and mist. The two were so beautiful together.
We had an assembly line to put them together! The wax seals took the most time.

I used the pockets and inserts from Cards and Pockets, wood prints for the inside invite, pheasant feathers and leather string both from amazon!

I used a gold wax seal stamp (amazon), a small hole puncher, and glue dots!
Shop This Post

We stuck the invites into the pocket using glue dots and put the RSVP envelope and other inserts in the side pocket. Folded, punched the flap and put the string in. We wrapped the string so it closed like an old journal then embellished with the feather.
Stuffed it in the envelope and sealed it with wax!

Recruiting help is key! If I had to do this on my own it would have taken 10 hours!
Congratulations, Jordis & Micah!
Thank you for sharing your DIY Story with us!
Save to Pinterest: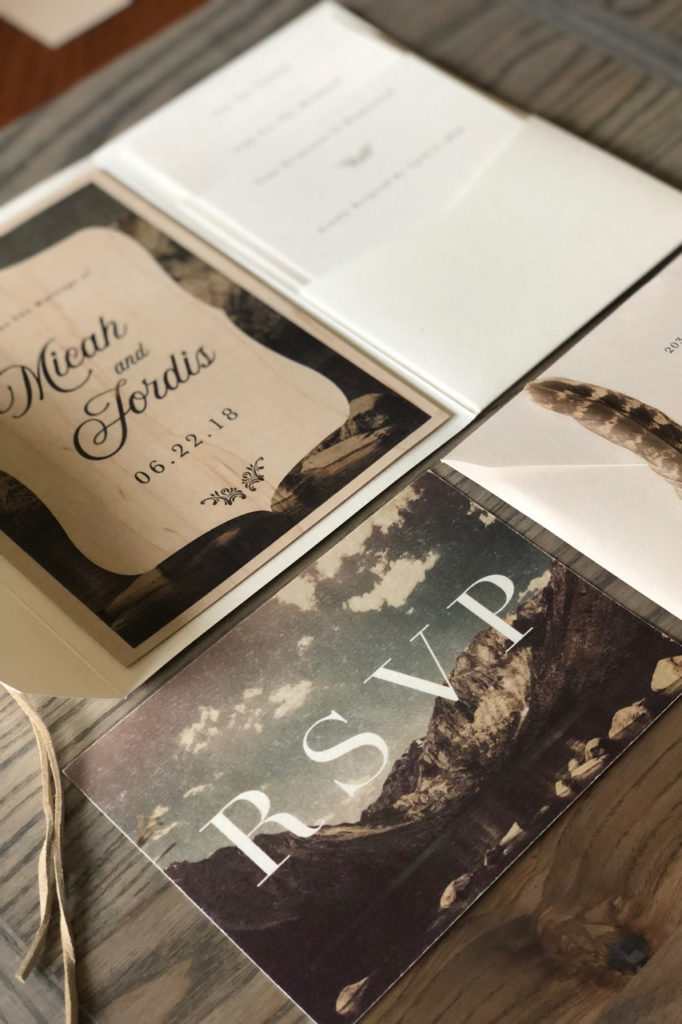 ---

 At Cards & Pockets, we love DIYers.  We also know that one of the best ways to be inspired is to see and learn about other people's experiences.  We're excited to share stories of our customers unique DIY invitation process.
Do you have a unique DIY story for your invitations?  We would love to hear more about it. Simply visit our "My DIY Story" entry page and fill out the submission form and you could be selected for our next featured story!
Be an inspiration, share your story today!