If you want a soft romantic style DIY wedding invitation then the pastel look is for you! Pastels make for a sweet suite with their subtle hues and this suite can be achieved on a budget too. This modern pastel suite features a color palette of Powder Green, Azure Blue, and Kunzite and utilizes our square perfetto pocket invitation. This suite is perfect for a Winter or Spring wedding with its soft intimate tones.

DIY this suite at $3.13 per Invitation Set (Not including tape dispenser, wax heat gun, wax seal or wax)
Shop This Post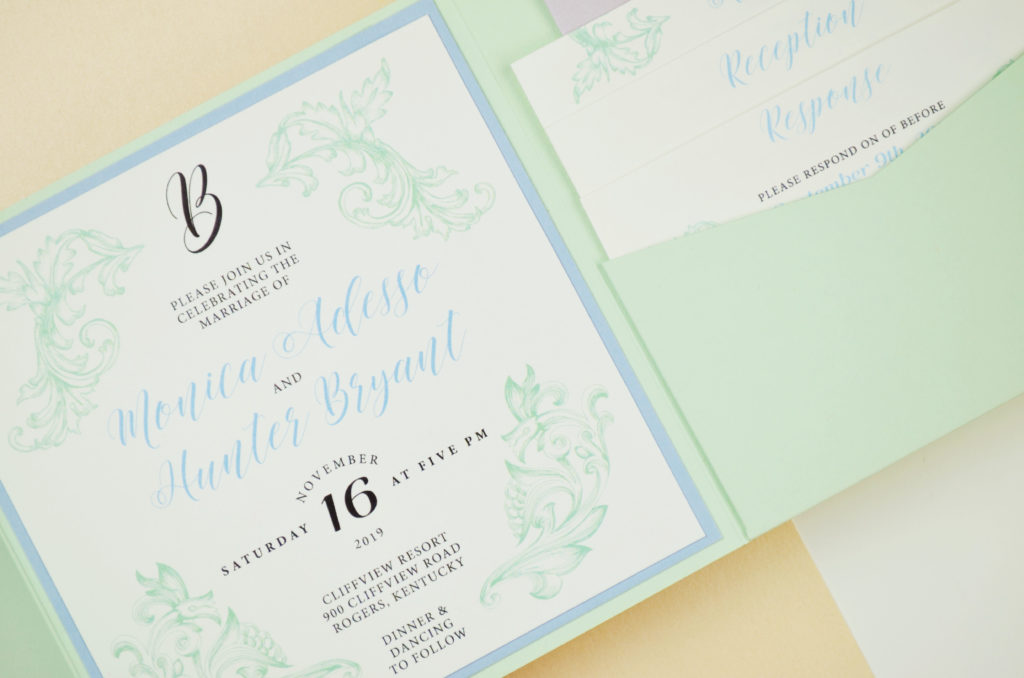 1.) Start by choosing your invitation design. This can be something you design yourself, a template you purchase from somewhere, or you can take a look at our free wedding invitation templates. We used our "Wedding Wreath" Invitation design, which you can find here. For this suite, you'll want your invitation card to have a final size of 5.625 x 5.625″ and your RSVP card of 5 x 3.5″.
2.) Print yourself at home using 8.5 x 11″ cardstock, or have your design printed at C&P through the "Print Your Own Design" section.
3.) Flip your invitation card to the back side. Apply tape around the edge of the card and center it over your invitation mat before securely pressing it in place.
4.) Next flip your invitation mat to the backside. Apply tape around the edge of the mat and center it over your perfetto pocket before securely pressing it in place.
5.) Then put your inserts in order and slide them neatly into your pocket and slide your (pre-addressed) RSVP envelope behind your inserts.
6.) Test to see if your wax is ready to use on a piece of scrap paper by squeezing the trigger of the glue gun. If the wax begins to come out easily, you're ready to start.
7.) Hold your perfetto pocket closed as you squeeze a small circle of wax (around the same size as your stamp's design) in the center of your pocket where the flap closes.
8.) Make sure your stamp design is facing the right direction, gently press it into the dollop of sealing wax, and leave it in place for a few seconds without moving it. Then gently lift to reveal your design.
9.) Carefully slide your whole invitation suite into your mailing (6.5) envelope, which should already be pre-addressed. Seal your envelope with Envelope Moistener with Adhesive for a secure seal.
Now you have a beautiful pastel perfetto pocket invitation suite!
See how we DIYed below
As always, you can really change the look of this invitation suite by picking different colors to fit your unique wedding style.
Let us know if you have any questions in the comments below.
Happy DIY-ing!
Save on Pinterest for later: