Our "Beachy" invitation set is a summery suite that's fun but still elegant – perfect for beach or destination wedding invitations. It features a playful pastel color palette of shimmery Aquamarine, Sand, and Peach to accompany the beach themed illustrations of palm trees, seagulls, seashells, and starfish. You can make these DIY pocket invitations by printing and assembling at home, and save money with our pocket invitation kits.

DIY this suite at $3.05 per Invitation

Shop This Post
Things to Note:
* "Hotels" and "Directions" inserts can be purchased separately to go with this suite here if needed.
* If you would not like to print yourself at home, you can also select "None" from the blank printables dropdown and get your invitations printed and trimmed for you. Order a Signature + Pocket set separately here, or directly after editing your free template.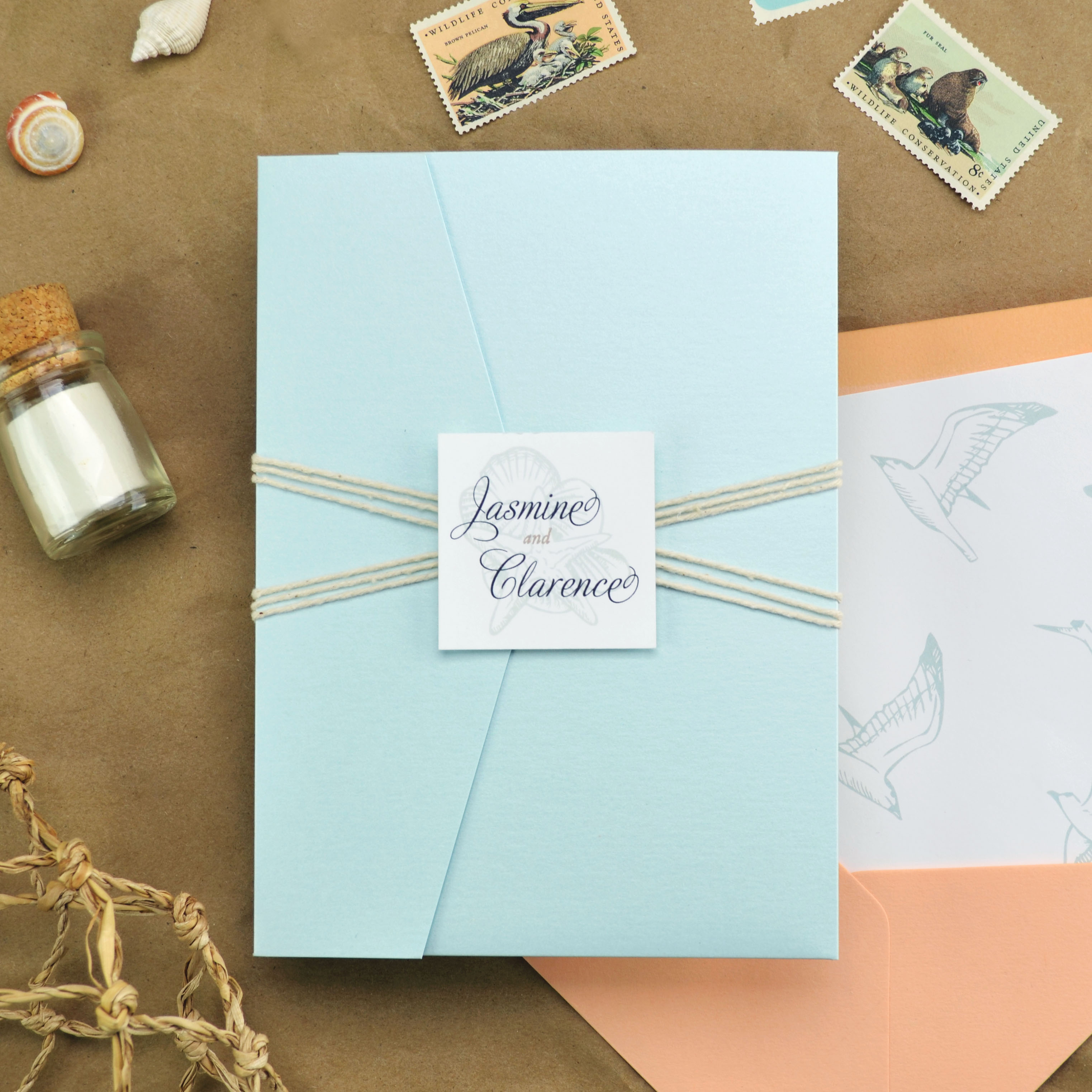 Start creating these DIY invitations by visiting our free wedding invitation templates page and edit the "Beachy" invite and RSVP template with all of your details. Once you're finished, your invitation and RSVP will be sent to your email, where you can download and print at home on blank printables that can be added to the Signature Plus Pocket Kit.
Assembling this suite is easy! Once you've printed or received your invitation cards and inserts, use a tape dispenser or paper glue to mount your invitation card to the invitation mats. Then, adhere the invitation card and mat to the center panel of your pockets.
Tuck your RSVP card under the flap of your pre-addressed and stamped RSVP (A2) envelope, and place in the pocket. (If you've ordered additional inserts, stack the RSVP card and envelope on top of your inserts before placing in the pocket).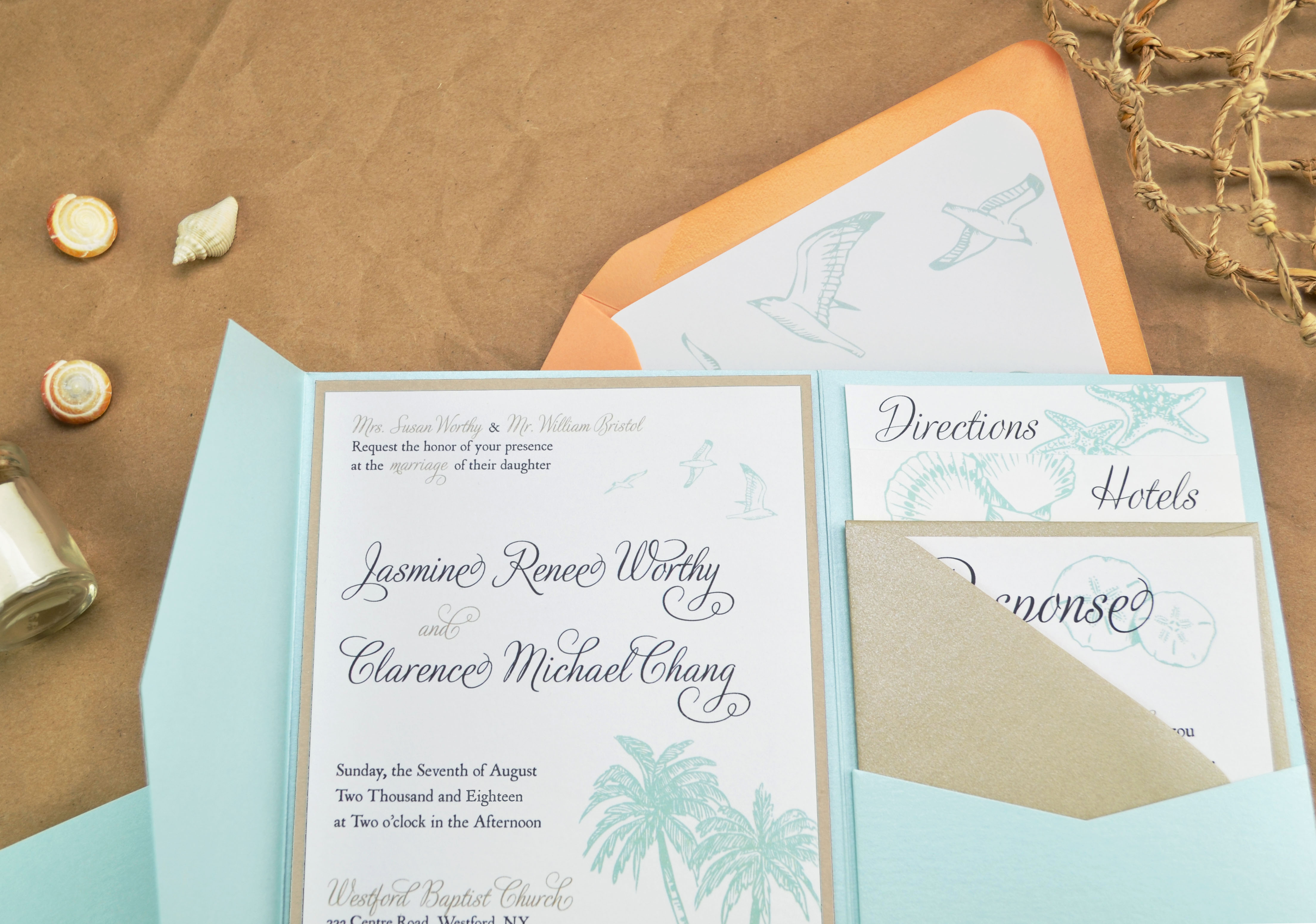 Close your pocket and glue your monogram to the center of the pocket. Glue Dots work well for this step. You can also wrap your pocket with string, twine, or a bellyband before adding your monogram. Just check with your post office to make sure your suite is not too bulky to mail! Every post office is different.
Use a tape dispenser to place a line of tape along the back of your envelope liner near the edges. Slide into your envelope, center, and secure in place. You can more tips for assembling and DIYing envelope liners here.
Slide your pocket suite into your lined (pre-addressed) envelope, so that the front of the pocket is facing out. Seal your outer envelope with Envelope Moistener with adhesive for a secure seal.
*Be sure to bring one finished suite to the post office to see how much postage is required to mail. You can order a sample pocket kit to test before ordering all of your materials.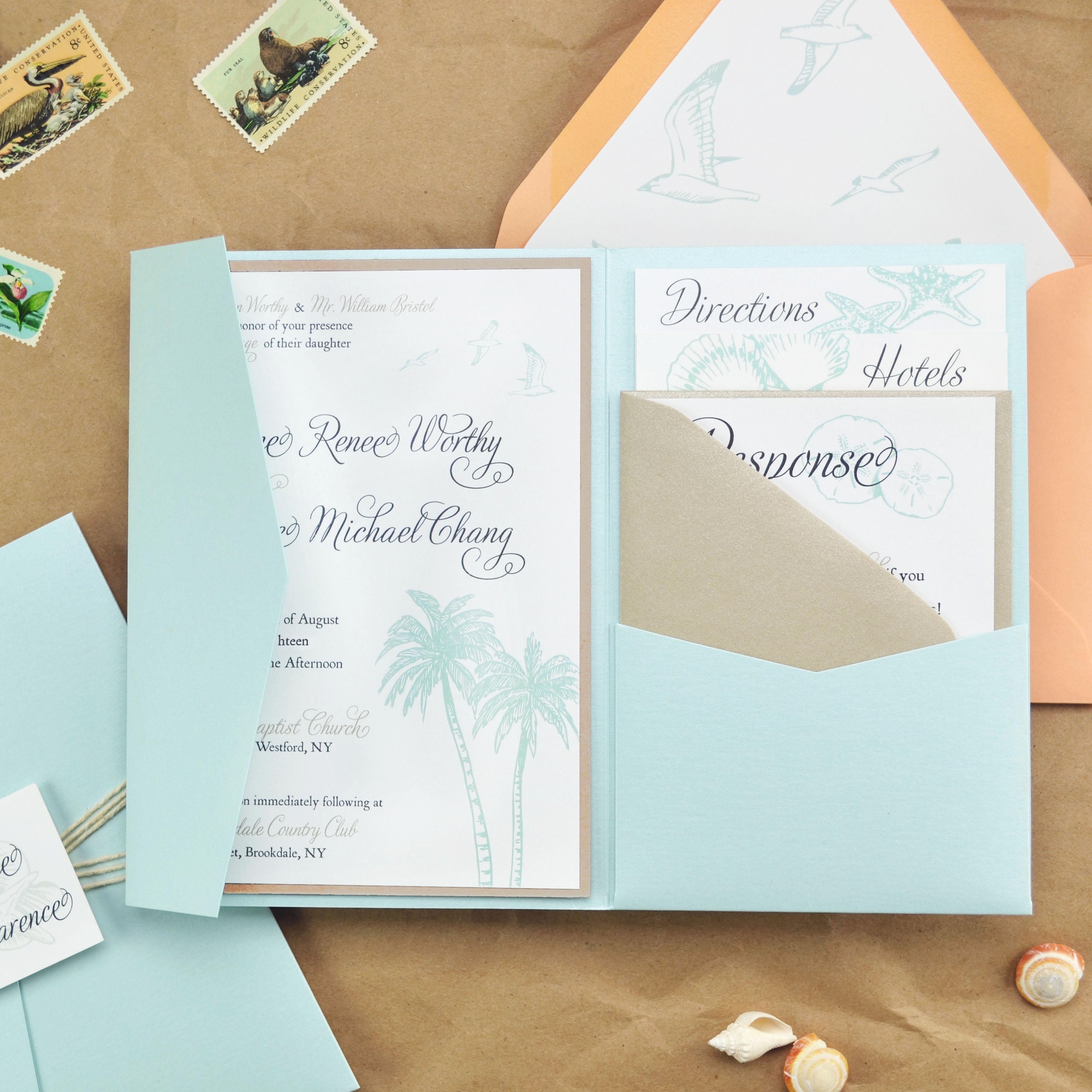 As always, you can really change the look of this invitation suite by picking different colors for envelopes and accessories to fit your wedding style. You can even add texture with wood paper, glitter paper, or mirror paper accents (Glitter Sand would be perfect)! Go bold and bright for a more vibrant summer look, or black and white for a more sophisticated look. There are over 80 colors to choose from!
Let us know if you have any questions in the comments below.
Happy DIY-ing!
Save on Pinterest for later: